corporate dressing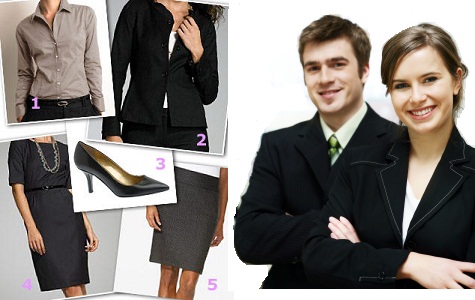 corporate dressing
A. For Women
Dressing isn't what it used to be. In years past, professionals were trapped in dull business attire, even while attending after-work events. But in today's more colorful corporate world you shouldn't feel trapped by a basic-black-and-pearls dress code. New options, fashion experts say, include colorful leather blazers, must-have bags and briefcases, and gorgeous scarves and accessories. When updating your spring wardrobe to incorporate stylish casual flair, make certain that your everyday professional look is polished, office-friendly (for your specific work environment) and on point.
THE RULES: Corporate Attire There are two levels of business attire: Business professional (the most conservative corporate dress) and informal business professional (a more relaxed version of the business professional look). The business professional look includes a conservative suit in a solid or pinstriped pattern. Preferred colors are navy, dark brown, gray and black. White and pastel-colored blouses are acceptable. Pumps with a closed heel and toe accessorize your suit. The informal professional look incorporates more pizzazz and color--in jackets, sweaters and blouse styles--and even dresses and skirts in silky prints combined with tailored jackets and sweaters.
When selecting your workday wardrobe, be aware that every company has its own work environment and often unwritten dress codes. To evaluate the dress code of your office, take a look at the movers and shakers around you. Look at those Sisters who are in the big offices, those who are making decisions in the boardrooms and presented as the "ideal face" of the company. What are they wearing? How are they dressed day in and day out? These are your fashion templates, the Sisters who have set the pace for what is deemed acceptable attire in your workplace. And more often than not, these power players know that a sophisticated professional look is important to success.
THE RULES: Casual and Chic Casual attire has been called the most relaxed corporate dress code, and subsequently, the most abused and misunderstood dress code in the nation. A professional woman's goal is to blend the casual with the chic. Steer clear of your favorite sandals, disco boots, jungle prints, leather miniskirts, tattered blue jeans, and other items that may be in your current rotation of party clothes. Casual and chic business attire includes incorporating colorful sweaters and leather blazers, and your favorite accessories into your professional look. When done right, your casual chic wardrobe can take you from "Casual Friday" at the
STRICTLY BUSINESS: Dress Code For Executives (General) There is no casual chic look for those pounding the pavement at a job; strictly business professional is the best way to go. Your attire should send the message that you can fit into the work environment. Here are some tips for looking your best on that job interview:
Suit: The most appropriate suit colors are black, navy and charcoal. Your buttoned-up blouse or shell should not be sheer; silk and cotton impress best. Employment experts say a skirt suit should be worn on a first interview, and can be exchanged with pants on the second or third interview. Your suit skirt should not be too short or form-fitting; that could send the wrong message to your employer.
Shoes: Shoes with 1- to 2-inch heels are appropriate, and the should be polished and in good condition. Flesh-toned hosiery or hosiery that is compatible with your attire is ideal; stockings or tights in fishnet or wild designs are not appropriate in most office settings.
Accessories: Jazz up your suit with a tasteful (and trendy) brooch or classic jewelry. But jewelry should be kept to a minimum. Body piercing (in nose, tongue, eyebrows) is generally unacceptable in a corporate environment.
Hair: Your hairstyle should be neat and your hair color should be natural-looking and complementary to your complexion. Wild colors (blue, pink, platinum streaks, etc.) and hair glitter are a no-no.
Nails: Short, well-manicured nails in one tone, including French manicures, are ideal. Long exotic and colorfully designed nails send the wrong message to a potential employer: that you are more concerned about pretty nails than you are about producing quality work.
B. For Men
If you don't want to be perceived as radical, you should always dress according to the type of work you do. Conservative careers warrant conservative dress. While this rule has taken a relaxed stance over the last few years, it's still very much in effect. Mostly, this is to put your clients at ease. Picture a banker: Would you trust him with your hard-earned money if he were wearing jeans and sandals? On the other hand, liberal professions call for a more laid-back wardrobe. Some of these people are actually suspiciously regarded when they dress too conventionally. With the advent of the dot-com industry, casual dress was spurred forward. In a short time, the trend took over and conservative businesses encouraged their employees to be more lax in their attire. But with the Internet hemorrhage of late, it seems like the trend is now back to suits.
THE RULES: Know your environment Rest assured, you don't need to wear navy pinstripes all the time. When summer comes, you can wear lighter colors and still project power. If the area you live in is home to a tropical climate, you can still wear all the colors you want, just choose lighter fabrics. Just remember that hort-sleeve dress shirts became extinct in the '60s and you should never be seen wearing one at work.
THE RULES: Men can accessorize too! In addition to color coordination (yes, your tie should match your shirt), you should take great care in your tie selection process. Solid colors and striped ties are essential as they are stylish and still conservative. If you want to be more aggressive, pick out designer ties or funkier patterns. Remember that this is power dressing, not I-want-to-be-a-wallflower dressing. You're the man and you want everybody to know it.
If you don't accessorize, you are not a serious power dresser. It would be like putting on a facade over a hollow shell. You need to play the part all the way. Cufflinks and tiepins are always noticed. They are accessories that don't necessarily fill an indispensable function but they certainly get spotted. Wear cologne that is rooted in tradition and doesn't scream for attention.
THE RULES: Not neglect the shoes Again, you must be stylish through and through. While comfort should definitely be one of the deciding factors, aim for leather footwear. If possible, avoid rubber soles and opt for leather ones instead. Black, brown and oxblood (i.e. burgundy) are your color options. Always make sure they are properly shined, as dirty luxurious shoes are as useful as wearing Bermuda shorts to a board meeting. You can even take advantage of these shoe-shining moments to catch up on the office gossip. Shoe shining professionals are fountains of knowledge as they're constantly present during people's conversations.
THE RULES: Quality It's a given that your clothes should look good but you shouldn't discard quality. It's easy to save a few dollars for something that looks good but that would never pass a quality insurance test. Spend a little more money to get garments that will not only last you a long time but will enhance your image. Tailor-made suits and shirts of high-quality fabrics don't just cost more; they'll make you feel different in all respects. You'll look better and feel a lot classier. Quality is worth it.
THE RULES: Dressing Goals Before slipping into your clothes, take a moment to ask yourself what you want to achieve with this particular attire. Do you want to intimidate a colleague? Do you want to impress a superior? Or perhaps you want to put a client at ease? Whatever your objective, you must unquestionably think about it beforehand and establish a game plan to sort out all the details. You might even want to reconsider how your nails and facial hair are presented.
Not long ago, offices were places where legions of similarly dressed people arrived at the same time, sat in neat rows of desks and performed nearly identical tasks. At noon, everybody vacated the office, then returned in exactly one hour, refreshed and ready for an afternoon of highly predictable behavior. It was boring, but at least you knew what to expect and how to act.
That was then, this is now:
Casually dressed people come and go at different times.
Many organizations have reduced office sizes and moved them closer together
Some people share offices
Some people have no assigned office - they find a workspace when they arrive each day
Often there is a kitchen on-site where employees make their own meals anytime
There are more snacks available - soda, coffee, candy, bagels etc.
There are more meeting spaces mixed in with cubicles, creating "teamspace"
There are more open, collaborative spaces for impromptu meetings
More people are working part time, flex time, as temps or on contract
Fewer people are trying to do more work as a result of downsizing and a tight labor market
Although a relaxed work environment has many advantages for worker recruitment, retention and productivity, new work conditions can create confusion, frustration and stress when noise and other distractions are common. As casual workspaces and meeting spaces are mixed with more traditional offices, workers have a greater number of distractions to deal with, while at the same time common behavior rules become blurred. Which behaviors are OK in which spaces? Developing and communicating a set of shared expectations can create a more positive office atmosphere. Such "rules" reintroduce a sense of predictability, lower stress and allow people to focus more on the tasks at hand.