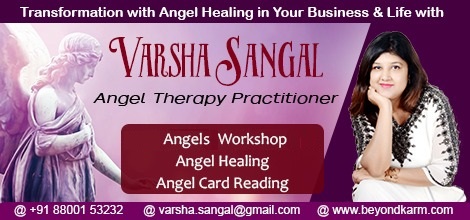 Ms. Kanak Kabra

Kanak Kabra is a certified Angel Healer, Oracle Card Reader, Sujok Therapist and a childbirth educator. She works as a spiritual counsellor and a holistic healer.


Ms. Vira Komarraju
ReikiUrja - Holistic & Clairvoyant Healing Space - Holy Fire Reiki & Holy Fire Karuna Reiki healing, Past Life Regression Therapy (PLRT), Hypnotherapy, Crystal healing, Fairy & Angel Card readings, and Archangel Michael & Raphael healing.


Mr. Rahul. B.L.
Rahul is personable & outgoing, comfortable communicating with people from diverse backgrounds, occupations & cultures, with key focus on the reading of energy's chakras & auras with great ability. He helps in removing energy blocks & heals the individual to live a healthy physical, mental, emotional, spiritual & positive life.


Nirvana Spiritual Retreat - Poonam Shah
Poonam Shah the founder and visionary from Nirvana Spiritual Retreat - I can Heal, who hails from Mumbai, is a committed Certified Spiritual teacher, Healer and Practitioner of therapies like Divine Healing Hands, Magnified Healing, Kuan Yin Oracle card reading, Tarot Card reading, Angel Healing and Chakra Healing. Her vision is to carry forward the eternal work of Mother Kuan Yin in healing the universe.

Ace Tarot - Ms. Anju Saini

Anju Saini acknowledged as internationally known psychic, whose work as a teacher and reader has established her firmly as an expert in many paranormal fields. She has been reading the Tarot from a decade and is considered to be one of the Brilliant Tarot Reader and Counselor, known for an excellent grip over the art of Tarot Cards Reading and trainings, Reiki Healing and Quantum touch classes.


Ms. Anjali Nagpal
Anjali Nagpal is a business trainer, a life coach and workshop facilitator certified to present Heal Your Life transformational workshop worldwide (based on the philosophy of Louise L Hay) approved by Hay House, US. She also conducts others workshops relating to self healing.


Ms. Pari Talati - Holistic Healings 4 U
Pari Talati - Past LifeRegression Practitioner, Access Bars Facilitator, Theta Practitioner, Inner Child Practitioner &Teacher, Radical Healer, Sound Healer, Reiki Healer, Fitness & ObesityConsultant, Pyravastu Consultant, Teacher of ancient yoga technique 3SRBMeditation, Tarot Card Reader & Teacher, Emotional Freedom Technique Practitioner (EFT).

Ms. Meghaa Gupta

Meghaa Gupta lives by Louise Hay's words "I choose to make the rest of my life the best of my life" and hence she believe in living every day to the fullest with the best of her ability.


Bakkul H K
Bakkul H K is an intuitive person & has been on the spiritual journey since a long time. He believes that he is the chosen one for being a mediator to help people realize their true potential & make their lives worth living.

Nitin Mohan Lal

Nitin Mohan Lal is a Reiki Grand Master and done so many spiritual healing courses. He has been practicing Reiki and other modalities since long and molded life of many people by his simple and true guidance.

The Mind Collective - Ms. Shree Dembla

Shree Dembla is truly a miracle maker. Her words, her work, her touch, her presence brings an innate sense of joy, ease and Tsunami of possibilities. She is the catalyst for change (Transformation Coach, Energy Healer, Hypno Therapist, Consciousness Facilitator, Motivational Speaker...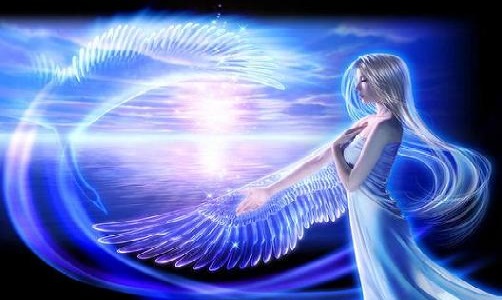 Although very few people so far have reported seeing an angel, thousands of them have sensed or felt their presence at sometime or the other. There are many signs to tell that an angel or a divine being is around, as angels do give us a sign when they are working with us.
The most common of them is a seeing flashes, sparkles or trail of light for a moment. This is because the angels are made up of light and they glow in different colours. The other most common sign reported is a feeling of warmth around head, neck or face. Sometimes this feeling is associated with change in air pressure too which is perceived as a pressure on the crown area or in our ears.
Sometimes angels reach to us in the form of repeated number sequences called Angel Numbers (like 111, 4444, 555 etc.) Each number sequence has a message associated with it and if a particular sequence is seen repeatedly then it means that the message associated with the number is the guidance the angels are giving you right now.
Apart from the signs mentioned above, there are many other signs which the angels give us to make their presence known like seeing feathers around you, slight breeze in the room even when the windows are closed, cloud formation in the shape of angels, sounds of bells or chime or your name being called when no one is around, a pleasing fragrance from unknown source that lasts for a moment. The list is endless. Each one of us are going to feel the angels in our own unique and different ways depending upon our sensitivity and receptivity. If you have a strong feeling that you are in the presence of an angel then you most likely are because the unconditional love radiating from them is unmistakable.
Angels are ready waiting for our call of help and are happy to help always. While they are around us and working for us they make their presence felt. Look for signs in your life. How is that you are connecting to your angels today?
HIERARCHY OF ANGELS
There are millions of angels who are working with the mankind on earth right now to bring about peace and happiness on earth. These angels belong to different spheres or categories. The Angelic Realm has a hierarchy of angels with each having different powers and specialties. The Angelic Realm has three spheres of angels consisting of nine orders, that is three in each sphere. The first one is the Heavenly Counsellors consisting of the Seraphim; the Cherubim; the Thrones, the second one is the Heavenly Governors consisting of the Dominions; the Virtues; the Powers and the third one is the Heavenly Messengers consisting of the Principalities; the Archangels; the Guardian Angels. The angels working with the people on earth belong to the third sphere and are discussed in detail further.
Guardian Angels:
The Angels assigned to us from birth to stay by our side till death are known as Guardian Angels. They stay with us permanently during our stay on earth ensuring our safety. They are well familiar with our mission on earth and assist us in achieving our life purpose by motivating and guiding us throughout. There are at least two Guardian Angels with us always but one can invoke more than that as well.
Archangels:
Archnagels manages and supervises the guardian angels and other angels on earth. Archangel are very powerful and large. They do not have gender but we perceive them as male or female by their special names and energies. Few Archangels are mentioned in the holy texts of Bible, Kuran and ancient jewish texts. There are many Archangels but only 16 of them are currently working with mankind. They have a unique aura colour and speciality. The four major Archangels are discussed in detail.
Archangel Michael:
The name means "he who is like God". He releases us from fear and all forms of negativity. He is associated with providing courage and protection. He is the most powerful Archangel and supervises other Archangels as well. It is believed that Archangel Michael has a sword of light in his hand and uses it to cut the cords of negativity around us. The aura colour associated with him is royal purple.
Archangel Raphael:
The name means "he who heals". He is in charge of all forms of healing. He heals diseases and sicknesses and painful situations in life and brings about comfort by detaching us from painful situations in life. He helps healers to enhance their healing skills. He is also known to assist travellers. The aura colour associated with him is emerald green.
Archangel Uriel:
The name means "God is light". He gives wisdom and new ideas and helps with setting up of new ventures. He is known to help us fulfill our goals and dreams by keeping us motivated and encouraged. He helps during natural calamities as it is believed that he warned Noah of the impending flood and helped him. The aura colour associated with him is pale yellow.
Archangel Gabriel:
The name means "messenger of God". It is believed that Archangel Gabriel delivered the message to Mary about the birth of Jesus. Archangel Gabriel assists messengers like writers, teachers and public speakers. Also helps expectant parents with pregnancy, childbirth and adoption. The aura colour associated with her is Copper.
The other Archangels working with us are Archangel Ariel, Azrael, Chamuel, Haniel, Jeremiel, Jophiel, Metatron, Raguel, Raziel, Sandalphon, Zadkiel and Nathaniel. As each one of them have a speciality, we can connect with a particular Archangel and receive guidance and help in that particular area.
Kanak Kabra
Angel Healer