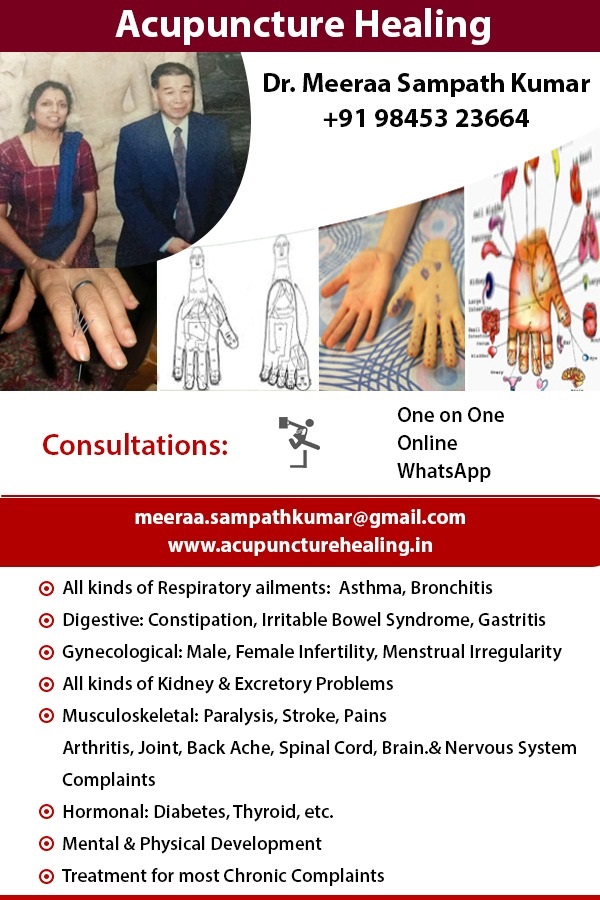 Acupuncture Healing - Dr. Meeraa Sampath Kumar
Are you exploring options to find a leading center of Sujok Acupuncture in Karnataka ???
If your response is a big yes, then Dr Meeraa Sampath Kumar is the right person to be approached. She has constantly been transforming the lives of thousands of people through her range of services and courses.
Dr. Meeraa Sampath Kumar is a certified holistic health practitioner and a pioneer in the field of Sujok Acupuncture in Karnataka. Highly trained and experienced, she constantly updates her training skills and knowledge in the field of Sujok Therapy and Onnuri medicine. She is known for her skills in rooting out health problems and treating her patients with care, compassion, and empathy. She has worked in this field for the last 15 years, during which she has treated various ailments - both physical and psychological - with lasting relief. All kinds of problems like musculoskeletal, gynaecological, digestive,respiratory, hormonal, cardiac, renal, and psychological imbalance have been successfuly treated by her. The list of ailments, she has treated is endless, and includes migraines, headaches, sinus, diabetes, kidney, menstruation, asthma, neuritis, trigeminal neuralgia, blocks in blood flow, cardiac, benign tumors, tendon and ligament, frozen shoulder, IBS, colitis, acidity, gastritis, ulcers, eye disorders, and paralysis.
Apart from her professional paradise of acupuncture and counselling, she silently does her bit for underprivileged people. Committed to social causes and society, she actively promotes a campaign of health for all. Apart from treating very effectively a number of patients for various ailments, she has also trained many people 1-1 basis in the various theories of Onnuri medicine.
Dr. Meeraa Sampath Kumar can be contacted @ +91 98453 23664
Email : meeraa.sampathkumar@gmail.com
please visit : http://www.acupuncturehealing.in/