Menstrual Disorders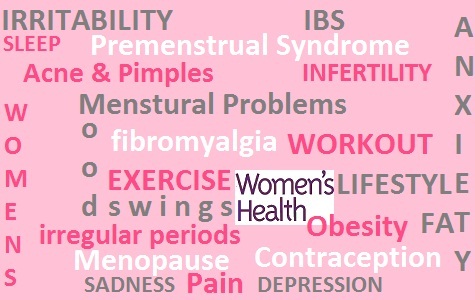 Menstrual Problems and Nature cure
There are several herbs known to decrease severe bleeding and stop menstruation altogether, or at the very least reduce harsh bleeding. Many of these can be taken at the start of menstruation or during it. The time it takes to affect the cycle from the point of eating will differ and some may create results within hours, while others may take days.
Causes of Menstruation Problems:-
* Pregnancy: If you are pregnant your body will begin producing different levels of hormones. This will cause numerous pregnancy symptoms, including an end to your period.
* Stress: Stress is a common cause of irregular periods. If you are fatigued, worried, or anxious this can cause your hormones to become unbalanced.
* Menarche: the cycles after a girl's first period may be irregular for some time. It can take up to 3 years to get regular periods.
* Menopause: Menopause causes change in your hormone levels, and is often signaled by irregular periods.
* Diet: A poor diet or extreme weight loss or gain can also affect your hormones. Women with anorexia or bulimia often have no period or irregular periods.
* Exercise: Intense exercise can wreak havoc on your body, often causing irregular periods.
Natural way to cure menstrual problems:-
There are many helpful cures to stop heavy blood loss like exercises and yoga are just very effective treatment to deal with the great bleeding and pain. By doing movements you can avoid problem of excess bleeding. Yoga also helps to lessen your stress and problem of despair and improves your proper health.
Exercises give you energy and also relaxation to your mind and also provide oxygen to brain.
Various herbal teas may help reduce menstrual bleeding and cause your period to end earlier than normal. Reduce sugar and sweets of all kinds. Take nourishing diet it will assist you to give energy. Also avoid spicy food.
Water is one very effectual to stop heavy menstruation. Water as well helps in onslaught the infection through urine. Drink at least 8 to 10 glasses in a day. Water also helps you in increasing the energy and then reducing pain.
Avoid antibiotics as they have many side effects. They can effect to your body. You may feel fatigue.
During menstruation it so effectual to consume raw fruits and vegetables like apples and cucumber. Take a juice of raw apple and add vinegar and then also add water. Consume once in a day it will help you in lessen of excessive bleeding. This answer also helps you in problem of reducing pain.

Acupuncture Healing - Dr. Meeraa Sampath Kumar
Are you exploring options to find a leading center of Sujok Acupuncture in Karnataka ???
If your response is a big yes, then Dr Meeraa Sampath Kumar is the right person to be approached. She has constantly been transforming the lives of thousands of people through her range of services and courses.
Dr. Meeraa Sampath Kumar is a certified holistic health practitioner and a pioneer in the field of Sujok Acupuncture in Karnataka. Highly trained and experienced, she constantly updates her training skills and knowledge in the field of Sujok Therapy and Onnuri medicine. She is known for her skills in rooting out health problems and treating her patients with care, compassion, and empathy. She has worked in this field for the last 15 years, during which she has treated various ailments - both physical and psychological - with lasting relief. All kinds of problems like musculoskeletal, gynaecological, digestive,respiratory, hormonal, cardiac, renal, and psychological imbalance have been successfuly treated by her. The list of ailments, she has treated is endless, and includes migraines, headaches, sinus, diabetes, kidney, menstruation, asthma, neuritis, trigeminal neuralgia, blocks in blood flow, cardiac, benign tumors, tendon and ligament, frozen shoulder, IBS, colitis, acidity, gastritis, ulcers, eye disorders, and paralysis.
Apart from her professional paradise of acupuncture and counselling, she silently does her bit for underprivileged people. Committed to social causes and society, she actively promotes a campaign of health for all. Apart from treating very effectively a number of patients for various ailments, she has also trained many people 1-1 basis in the various theories of Onnuri medicine.
Dr. Meeraa Sampath Kumar can be contacted @ +91 98453 23664
Email : meeraa.sampathkumar@gmail.com
please visit : http://www.acupuncturehealing.in/