YAGNA/HAWAN
Dr. Geettanjali V. Saxenaa.

Past life Regression Trainer, Family Constellation Trainer, Theta Healing Trainer, Inner Child Work, Angel Therapist, Reiki healer, Hypnotherapy, Crystal Healing, Graphology, Tarot card reader & Astrologer


Divine Light Healing & Training Centre - Ms. Asha A Doshi
Asha A Doshi is the founder and sole creator of a platform "Divine Light Healing & Training Centre" for all the light workers to come together and explore spirituality. Born with intuitive gifts of healing and teaching, she has spent her life learning, practicing, teaching and integrating diverse arts of making life a beautiful journey.


You24Healings - Ms. Vruushali Nilegaaonkar
Vruushali has being promoting Mind, Heart, Body & Soul healings & Holistic Wellness for overall wellbeing of an individual. She advises & offers solutions to recover from various Life's issues like Finances, Career, Money, Love, Children, Property, Business by consultations based on Astrology, Numerology, Tarot Card reading, Vaastu Shashtra & Chakra Vaastu.

Ms. Dishaa

As so rightly affirmed by Reiki Grandmaster Dishaa, a young and dynamic lady, an M.B.A turned natural healing expert from Chandigarh (India) for whom life has always been a 'Love for the Moment' which is beautiful yet compassionate...

Vikram Pancholi (VibhutiGanesh)

Vikram Pancholi is a Certified Clinical Hypnotherapist, Reiki, NLP and Energy Healer. He is into creating pragmatic tools from the knowledge and experience, attained in various metaphysical fields during last 35 years....

Kirti Agarwal
Kirti Agarwal is a certified Theta Healer, Trained Family Constellation Facilitator, Tarot card Reader, Past life Regression Therapist, Angel card reader, Inner child integration, Astrologer, Tasso Therapist and Reiki Master.


Rajavardhan - Sri Varaahi Holistic Healing
Rajavardhan is a Astrologer, Theta Healer, Shamanic Healer, Vastu & Maha Vastu Consultant, Access Bars Practitioner, DORN Therapy (Healing) Germany Expert. Founder of Sri Varaahi Holistic Healing.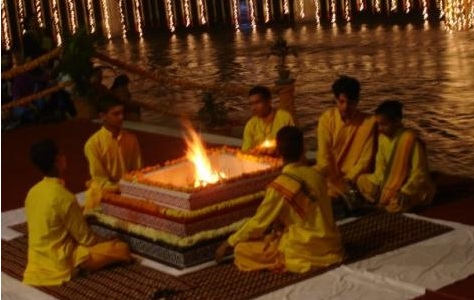 Pooja & Hawan
Pooja is the act of showing reverence to a god, a spirit, or another aspect of the divine through invocations, prayers, songs, and rituals. An essential part of Pooja for the Hindu devotee is making a spiritual connection with the divine. Most often that contact is facilitated through an object: an element of nature, a sculpture, a vessel, a painting, or a print. It is possible to reduce the suffering due to the unfavorable position of planets through sincere reliance on God, the One who controls the planets.
During Pooja an image or other symbol of the god serves as a means of gaining access to the divine. This icon is not the deity itself; rather, it is believed to be filled with the deity's cosmic energy. It is a focal point for honoring and communicating with the god. For the devout Hindu, the icon's artistic merit is important, but is secondary to its spiritual content. The objects are created as receptacles for spiritual energy that allow the devotee to experience direct communication with his or her gods.
There are several Poojas which people can do for specific events, such as the starting of a business, or the beginning of a journey. The benefit of this type of Pooja is to remove obstacles. The Poojas are performed on behalf of those who request them by us.
Benefits of a Pooja according to our sacred texts, Pooja -
• Disciplines the mind
• Energizes the deity and the worshiper
• Enables one to experience oneness with divinity as we unconsciously offer the self through our material offerings.
Pooja establishes a bridge between the worshiper (the lover) and the deity (the loved). It facilitates flow of love-energy in both ways. This energy not only sanctifies the self but also re-vitalizes the body's resources, making one experience, what is called HOLY BLISS. Thus both the worshiper and the worshiper benefit from Pooja.
How Pooja is Performed?
A worshipper is required to be pure of body and mind. The Puranas lay more stress on the quality of devotion and good behavior than on rigid Pooja procedures. Pooja originated as a substitute to homa and other Vedic sacrifices which women and Shudras could not perform and which required animal sacrifices. Due to Dravidian(see Dasas), Buddhist and Jain influences that preached non-violence, the killing or sacrifice of animals was discontinued and with the development of iconography, idol worship and Pooja took the place of sacrifice. It was also recognized that worship was essential for all, whatever the gender or caste (see Varna) and therefore Pooja was formalized as a universal option instead of the exclusive Hawan.
What is Hawan?
Hawans are Poojas performed for a particular deity by invoking Agni - the God of fire.
It is said that when Lord Brahma (the creator among the Trinity) created man, he also created "Hawan" for man's livelihood and his attainment of spiritual desires. The fundamental premise of Hawan is derived from the Vedams, although, according to "Purusha Sooktham", it is the other way around - Vedams originated from Hawan! Anyhow, Vedams and Hawan are eternal truths having neither beginning nor end, and are "Apourusheyam" (divine, not the creation of humans). Karmam (work or action) is an integral part of living. Right and wrong Karmams can hardly be discerned by human intellect, and has to be guided by knowledge. Vedams, indeed, contain the highest form of knowledge. The singular goal of Vedam is to guide man through the correct path. And Hawan forms the essence of all the Karmams prescribed in the Vedams.
The goal of all Hawans is the prosperity of the people at large by energizing and protecting the environment. The Sun is considered as the main source of energy supply, and fire is considered as a representation of the Sun's energy. According to the ancient texts on Hawan, any offer to Fire as a god, is actually an offer to Sun. Any such offer is either to enrich energy in the environment or to destroy the undesirable elements in the environment, and thus, in both ways, environment is protected. Attaching divine nature to such rituals (like Hawan) induced people to practice them. Thus, the ancient texts proclaim that "Such Vaidika Karmams are result-oriented, and meant to lead to Sreyass or spiritual attainments".
How Hawan is performed?
Each Hawan is performed strictly according to scriptures. These are conducted by fully learned and experienced vedic scholars.The ingredients recquired for these Hawans are different for each Hawans.Each Hawan is performed after praying (Sankalpa) for the specific relief / benefit desired for each individual.After each Hawan, pundits are fed with vedic prayers.