Access The Bars

Ms. Malvika Kapoor
Malvika is an Access Consciousness Bars facilitator, Access Consciousness Body Process facilitator, Life coach, Counselor, Healer, Distant Healer, Healer for relationship issues, Grief, Loss, Fear, Depression, Health, Pain and Emotional issues.

Cosmicx Healing Art - Ms. KripaJyoti Nisha Singla

KripaJyoti Nisha Singla (PGDBM) is a Spiritual master, Energy worker, Reiki Master, Theta Instructor, and a dedicated Artist who has been working in the field of healings, spirituality, counselling, relationship healing, family therapy and alternative medicine therapies from more than 12 years.

The Mind Collective - Ms. Shree Dembla

Shree Dembla is truly a miracle maker. Her words, her work, her touch, her presence brings an innate sense of joy, ease and Tsunami of possibilities. She is the catalyst for change (Transformation Coach, Energy Healer, Hypno Therapist, Consciousness Facilitator, Motivational Speaker...


Ms. Radhika Chopra
Radhika Chopra - Tarot reading, Graphology, Pythagoras system of numerology, Releasing of toxic emotions and events from energy field, Metaphor therapy, Access bars, Access body processes and Energy transformation of bodies, health, and spaces, Facilitator conducting Bars, Body process, Energetic facelift classes and Right Voice for You Taster.


Ms. Ritu Bahri
Ritu's unique integrative Energy Healing modality is drawn from a spectrum of healing modalities, including Reiki, Karuna Reiki, Aura scanning, Chakra balancing, Embodying the living principles of self-transformational human evolution.

Mr. Nawal Banthia

Nawal Banthia is a Certified Access Bars Facilitator. He is committed to assisting & guiding anyone who comes for the classes, towards more consciousness. He has been guiding & facilitating people to create a different reality beyond this reality.

Ms. Amanpreet Nagpal

Amanpreet Nagpal is an efficient, conscientious and caring counselor with extensive knowledge of facilitating empowerment, rehabilitation and guidance to clients who have experienced trauma and hardship.


Ms. Mukta Rastogi
Mukta Rastogi is a Life coach, Counsellor, Certified Hypnotherapist, Access Bars Practioner, Certified with Dr Brain Weiss in Past Life Regression, trained in Metaphor Therapy and Angel Card Reader. She is Proactive and dynamic spiritual healer.

Ms. Rajnee R Garg

Rajnee Garg is a certified Tarot Card Reader, Numerologist and a SPIRITUAL HEALER. She is also a Hypnotherapist and a Past Life Therapist. She has in-depth knowledge of Tarot Cards, Numerology, Hypnotherapy, Past Life Regression, Pyramid-Vaastu, Crystal Healing, Pranic Healing, Metaphor Therapy, Radical Healing, Angel Healing, NLP & Mind power Techniques and more...

Ms. Rekha Khatwani

I am an Access Consciouness Bars Facilitator, Access Body Process Practitioner, Symphony of Possibilities Practitioner, Reiki Grandmaster, Money Reiki Grandmaster, Tarot Card Reader, Bach Flower Therapist, Distant Healer. I am a natural intuitive and Empath.


Bakkul H K
Bakkul H K is an intuitive person & has been on the spiritual journey since a long time. He believes that he is the chosen one for being a mediator to help people realize their true potential & make their lives worth living.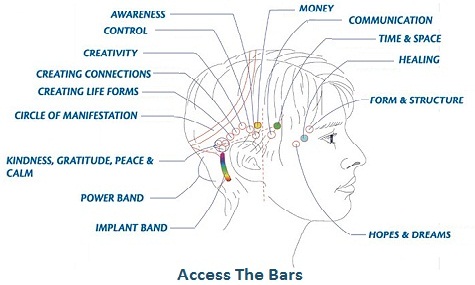 What are The Bars?
There are 32 bars of energy that run through and around your head. They store the electromagnetic component of all the thoughts, ideas, attitudes, decisions and beliefs that you have ever had about anything. There are Bars for healing, body, control, awareness, creativity, power, aging, sex and money; just to name a few. Each thought, idea, attitude, decision or belief that you have fixed in place solidifies the energy and limits your capacity to be generative in that area and to have something different show up in your life.
As each bar is touched you begin clearing the "issues" and the energy locked up in that area of your life, allowing for exponential change and healing to happen.
What is the value of erasing this bank of data you have stored all this lifetime?
When you are functioning from preconceived points of view about what is possible in life, what is not possible in life, and have it rigidly defined of how the world works, you cannot be aware of anything that does not match that. As you change the energy, you change how that part of your life shows up.
What is the most simple and easy way to change energy?
Get your Bars touched! When you do, something different can show up in your life with ease. At worst you feel like you have just had a beautiful relaxation. At best your whole life can change into something greater with total ease. This is an incredibly nurturing and relaxing process, undoing limitation in all aspects of your life without any effort.