Peptic Ulcer
Dt. Shweta Diwan - Slimage Diet Clinic

Awarded as the 'Most Efficient Diet Clinic in Delhi' in 2015, Slimage Diet Clinic believes that healthy living doesn't require you to reduce your diet, but simply eat right. We, under the guidance of Dt. Shweta Diwan, aim at providing guidance and helping you achieve your fitness goals with effective diet plans specially designed for you.

Dr. Puran Sharma - Reiki Bless You Foundation

Dr. Puran Sharma is a Certified Reiki Grand Master, a Mind Trainer and successful Mid Brain Trainer. He has learnt different modalities of Energy Healing System and Mind Training from 21 Gurus across the world...

Soul Route

Co - founded by four spiritual entrepreneurs, Soul Route is one of its kind life empowerment & transformation center offering full range of psychotherapy & alternative life enhancing services aimed at cultivating healthy & successful lifestyles.


Ms. Kaveri - Kaveriss Holistic Healing
The aim of any occult science, be it astrology or numerology, palmistry or fengshui, crystal healing or colour therapy, is identical without any question : serving the customers with a rule book advice that would bring about happiness in their lives.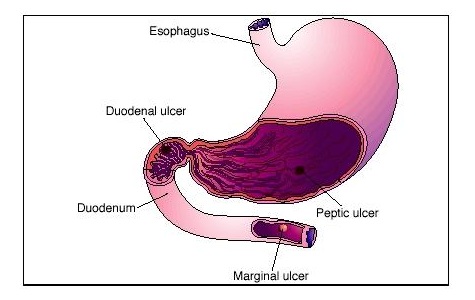 Peptic Ulcer
Ulcer in the digestive system of the body is known as peptic ulcer. There are certain factors which can cause peptic ulcer such as smoking, alcohol abuse, junk food, food poisoning, certain medications, cancer, stress and unhealthy lifestyle. Some of the common symptoms of peptic ulcer are sharp pain, insomnia, massive bleeding, mental tension, constipation, distension of stomach, blood in the stool, and gradual weakening of the body.
Home Remedies
There are several home remedies for peptic ulcer which are simple to use and are quite safe to try at home without any risk of side effects. Some of the popular home remedies for ulcer which are being used since a very long time and have proved to be quite effective in many cases are:
1. One of the simplest home remedies for peptic ulcer is to eat bananas on daily basis. It helps in neutralizing hyperacidity of gastric juices and gives immediate relief from the burning sensation. You can even try drinking banana milk shake which is equally effective.
2. Consume foods rich in vitamins such as whole grains, fresh fruits and green leafy vegetables. This will make it easy for your body to heal ulcer.
3. One of the most efficient home remedies for peptic ulcer is the use of cabbage. All you have to do is cut cabbage into many slices and then boil it in water. Allow it to boil until only half of the original content of water is left. Strain this mixture and collect the water. You can consume this water on daily basis for one week.
4. Lime juice is also very helpful in treating peptic ulcer. You can consume it twice daily for better results.
5. Avoid consumption of spicy, fried and greasy foods. Do not eat meat products as they can be difficult for your stomach to digest.
6. Almond milk can prove to be quite beneficial in curing ulcer. All you have to do is take some almonds and soak them in water for the whole night. Next morning peel these almonds and blend them in a blender.
7. To get instant relief from the symptoms of peptic ulcer you can try consuming a glass of cold milk without sugar. This will give you quick relief from the burning sensation.
8. Take half cup of yogurt and mix with drumstick leaves (ten grams) to make a paste. Consume this mixture every day to get good results.
9. Another effective home remedy for ulcer is to take a cup of warm milk and then add two to three drops of castor oil in it. You can drink this mixture on regular basis to get good results.
10. Goat's milk is very useful in healing ulcer. All you have to do is drink a glass of raw goat's milk three times in a day.
11. Try to avoid stress as it can make your condition worse. You can practice certain deep breathing and relaxation exercises every day to calm your nerves.
These are some of the most effective home remedies for peptic ulcer which are simple, cost-effective and safe to try at home.