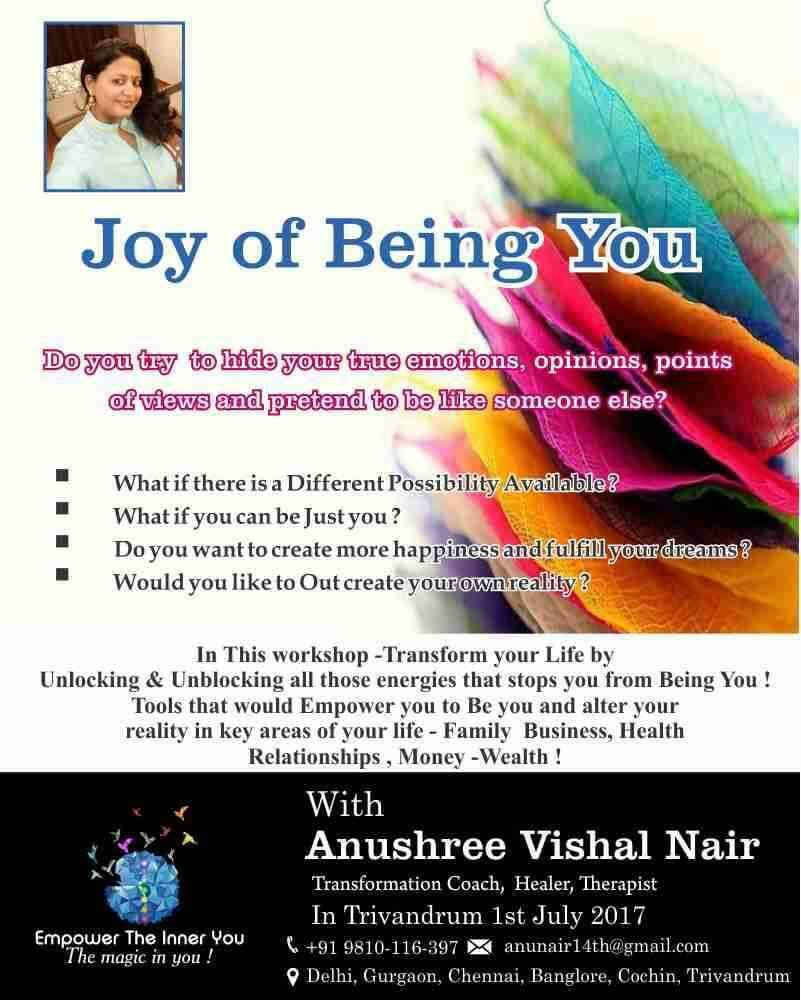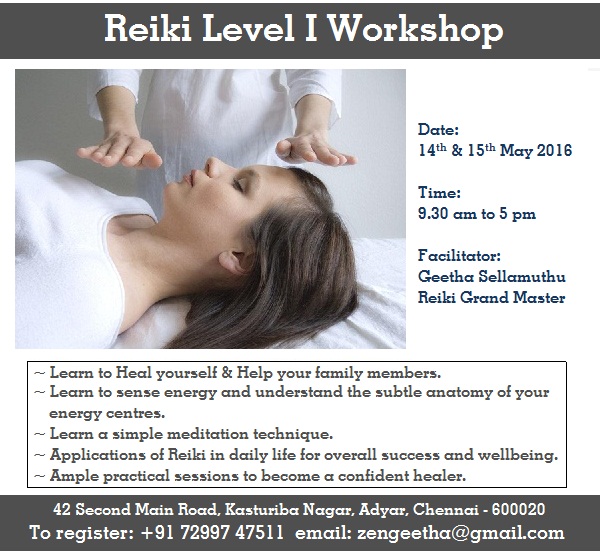 Your Contribution:
INR 6600-00/-
Enthusiastic Participation
An open mind to try a new healing technique
My Contribution:
Initiate you to Reiki
Give you an attunement
Ample practice sessions
Help you sense energy
Explain to you about your Subtle Energy Body
Teach you how to integrate this gentle healing energy in your daily life
Provide you a manual for your reference
Create a safe and pleasant environment
Refreshments and lunch
Your Facilitator's Profile
Geetha Sellamuthu is a Reiki Grandmaster .She has facilitated all levels of Reiki classes since 2000 at her centre.
She is a Master Teacher of the Diana Cooper Foundation and regularly holds Teacher Training Intensives on Angels, Ascension, Transform Your Life, Lemurian Planetary Healing and Golden Atlantis.
Soul Coaching & Angel Tarot Card Reader.
Aura-Soma Colour Care Practitioner.
Permaculture Garden designer.
Pyra-Vastu space care consultant
Timings 9.30 am to 5 pm on 14th and 15th May 2016
Venue: 42 Second Main Road, Kasturiba Nagar, Adyar, Thiruvananthapuram 600020
Contact: +91 72 99 74 75 11 to enrol.
Email: zengeetha@gmail.com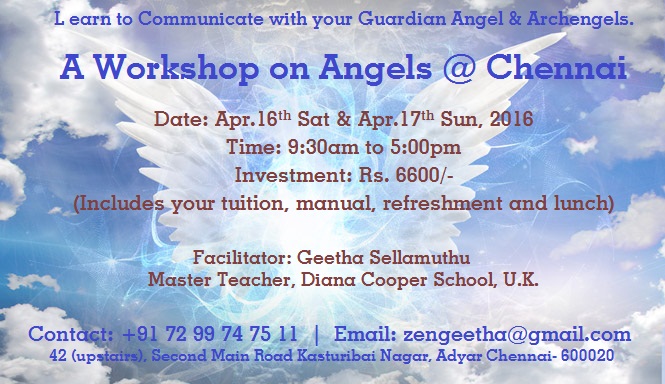 Illuminate Your Life With The Angels
Angels are highly vibratory seventh dimensional beings of Love and Light.
We all have a Guardian Angel guiding and guarding us through all our lifetimes. When we learn how to align with these wonderful beings they are willing to bring our lives to a high degree of coherence and effortless ease.
In this two day workshop you will learn :
You will learn to communicate with your Guardian Angel.
You will learn to release fears and traumas with the help of the Angels.
You will learn to open to love and let go of hurt and resentment.
Powerful protection techniques.
Effective manifestation with Angelic help.
Release your karmic issues which may be holding you back.
Learn to integrate with the Angelic kingdom in your day to day life.
Your investment of time, effort and money will be richly rewarded by increased well being, effortless ease, joy and exuberance in your life.
Profile of the facilitator:
Ms. Geetha Sellamuthu is a Master Teacher of the Diana Cooper School U.K. and is a trained in the following modalities: Angels, Ascension, Transform Your Life, Golden Atlantis and Lemurian Planetary Healing.
She is a Master Teacher Trainer of Reiki Healing.
A certified teacher and Spiritual Life Coach of "Heal Your Life" based on Louise Hay's work.
Date: Apr.16th Sat & Apr.17th Sun, 2016
Time: 09:30 am to 05:00 pm
Venue: 42, Second Main Road, Kasturba Nagar, Adyar, Chennai - 20.
Investment: Rs. 6600/- includes your tuition, manual, refreshment and lunch.
Contact: +91 72 99 74 75 11 to enrol.
Email: zengeetha@gmail.com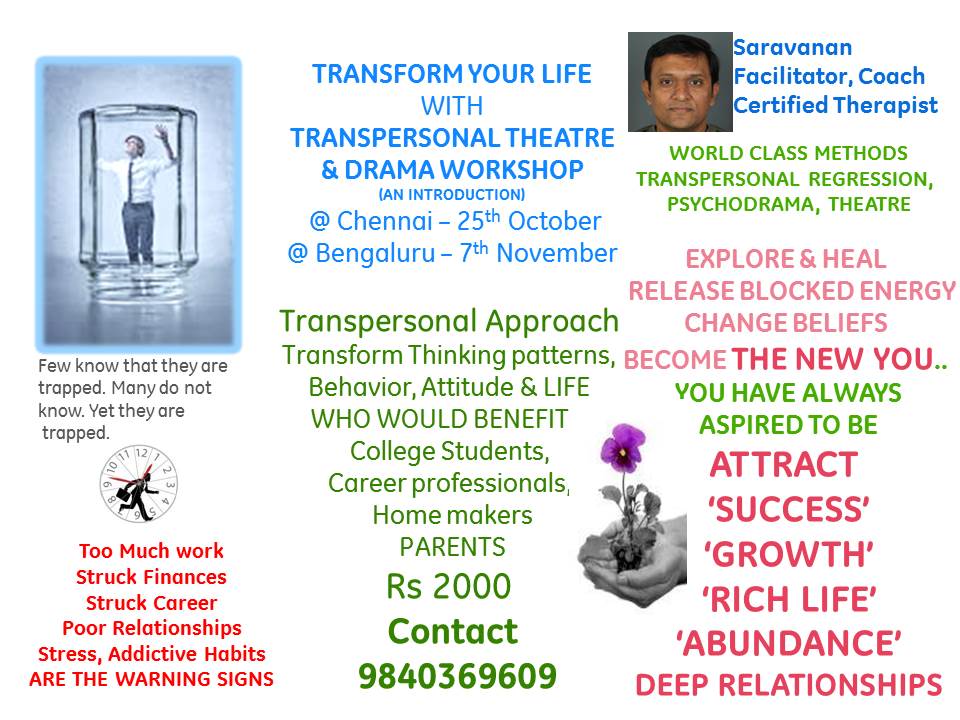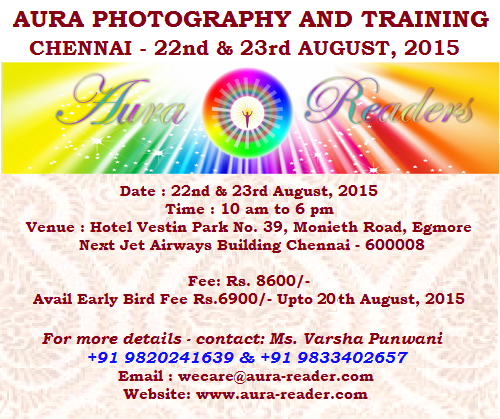 AURA PHOTOGRAPHY AND TRAINING
CHENNAI - 22nd & 23rd AUGUST, 2015
Omnipresence Academy of Life once again brings you an opportunity to learn how to interpret Aura Photography.
In this training program you will learn to:
Take a suitable digital photograph for the purpose of aura photography
Scan it with the help of Aura Readers® Software
Interpret it in detail
Use the interpretation for the purpose of Healing / Vaastu / Counseling etc.
Use the information to make decisions with regard to important personal matters such as partner compatibility.
Create a professional aura report
Conduct effective follow-up with clients
Who can do this training program?
Healers, Vaastu and Feng Shui consultants
Medical Practitioners
Counselors
Behavioral trainers
Anyone who would like to learn about Major and Minor Chakras (energy) and their impact on life.
We recommend:
You need a digital camera
Dress code: Aura Reading is easiest if one wears white clothes, or at least top / shirt should be white. Trousers / collar should be loose to roll up.
Optional requirement:
Laptop with Windows XP or Windows 7
Date : 22nd & 23rd August, 2015
Time : 10 am to 6 pm
Venue : Hotel Vestin Park No. 39, Monieth Road, Egmore, Next Jet Airways Building Thiruvananthapuram - 600008
Fees: Rs. 8600/-
Avail Early Bird Fees Rs.6900/- Upto 20th August,2015
Inclusive of Course material and a comprehensive online post-training support through a group where Aura Students All India and Abroad get together to practice and discuss various aspects of our Aura.
Facilitator: Aatmn ( Dr Neeta Yuvraj )
Payment Options
Deposit into our HDFC A/c by Cheque / Cash / Online Transfer
Please get details from
Ms. Asha Gokhale : +91 9820241639 & +91 9833402657
E mail : wecare@aura-reader.com
Please visit:
www.aura-reader.com
Conducted by: Omnipresence Academy of Life (OAOL): Headed by Dr. Neeta Yuvraj and Siddhi Pandya, the organization helps several people across various cross sections of society to discover their unique strength to make a positive difference in their lives.
Frequently Asked Questions:
Q: Do I have to purchase the aura software to take part in the workshop?
A: No. You do not need to purchase the software; but having a software with you could give you an easy way of practice. You can always take the help of your colleagues to scan your digital pictures or send the photos to be scanned at a very nominal cost of 1 US dollar per picture.
Q: Do I have to wear white clothes?
A: The reading of aura software is much more easy if one wears white clothes, or at least the top/shirt should be white without collar, preferably with open neck and short or no sleeves.
Q: I am not computer savvy. Can I still use the software?
A: We can train you to use the software effectively even if you are not computer savvy. The training takes less than 10 minutes of your time.
Payment Options
Online Payment through Credit Card / Debit Card / Cash Card