Oasis Foundation
Dr. Sanjaya Kumar - 'Acharyaji'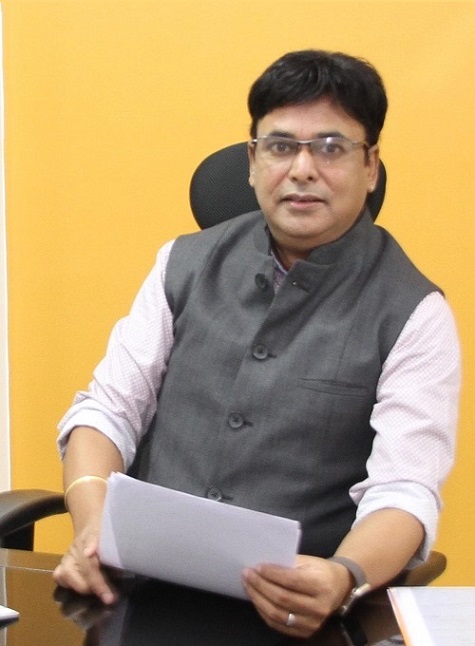 Dr. Sanjaya Kumar is a Licensed NLP Practitioner and an expert personality reader who can show strengths and weaknesses of a person with the help of Graphology (Handwriting and Signature analysis) with a view to enhance their lives through NLP (Neuro Linguistic Programming - a methodology to understand and change human behaviour-patterns) and Hypnosis.
Dr. Sanjaya Kumar 'Acharyaji', has passed the highest standards of NLP Practitioner training directly under Dr. Richard Bandler, the Co-Founder of the field of Neuro-Linguistic Programming along with Mr. John La Valle - President of the society of NLP and Kathleen La Valle Licensed Master Trainer of NLP & DHE at NLP life London.
He was also trained by Mr Paul William McKenna, the worlds greatest hypnotist and Mr Richard Bandler at "The Secrets of Hypnosis" workshop in London.
This is an International Licensed Certification recognised throughout the personal development world and he has become an accredited member of The Society of NLP.
NLP and Hypnosis helps people and corporate employees to grab opportunities at the right moment, reach goals fast and easily and break through barriers with unstoppable motivation.
He inspires people to discover their potential and transforms their lives. As of December 2018 he has counselled, conducted seminars and trained Forty Thousand plus participants.
He has conducted numerous workshops, training programs, seminars and has done consultancy, counselling in the countries like:
USA, LONDON, AUSTRALIA, SOUTH AFRICA, DUBAI, SINGAPORE, MALAYSIA, BANGKOK and INDIA
To mention a few of them - UCA Services, Chand Palace group of companies, USA; Telugu Association Singapore; I-Eduweb, Malaysia; Ahmedabad Management Association; Rajkot Management Association; Kutch Saurashtra Council; Ahmedabad Medical Association; Ahmedabad Orthopaedic Association; Association of British Scholars; The Institute of Company Secretaries of India; Civil Engineers Association; Nirma University; North Gujarat University; Sabarmathi Central Jail; Defence Personals; Jain Associations; Rotary Clubs; Lions Clubs; JC's Clubs; Round Table; YPO; Utkarsh Foundation; Axis banks; HSBC Bank; Go Bananas Events; Red Events; Ace Events; Silver craft Events; R C Events; Various Corporates, Institutes, Clubs, Associations, Private and Public sectors both in India and Abroad.
Many Celebrities from business field, film industry, educational field, political field have taken suggestions and accordingly designed their success. They frequently take advice for enhancing their lives.
He has been extensively featured in Print Media like:
Times of India; DNA; The Asian Age; Gujarat Samachar; Sandesh; Divya Bhaskar; Chitralekha; Sanj Samachar; Aaj Kal; Aaj Tak; FulChhab; Rajkot Gaurav; Citizen; Enadu; Patrika; Dainik Bhaskar; Navduniya; Dainik Jagran; People's Bhopal; Agniban; Metro Rang; Navbharat; Hindi Milap; Times; Vaarta
He has been extensively featured in Electronic Media like:
Zee tv; Etv Telugu; Etv Gujarati; Doordarshan; Alfa tv; GTPL
Regular Vaastu article in Bhamasha times
Radio Talk on Gujarat Rising with Radio One.95 FM
Educational Background:
Doctorate in "Psychology"
Licensed NLP Practitioner
Certified Hypnosis Practitioner
Certified Professional Life Coach
Certified Feng Shui Master
Graphology Practitioner
Vaastu Shastra Practitioner
Tarot Reader
Numerologist
Contact @ +91 93773 69966
Please visit :
www.askoasis.org
&
www.amazeimagemanagement.com
Address: Acharyaji, Sagun Caasa, B901, Nr Prernatirth Derasar,
Satellite, Ahmedabad-380015, Gujarat