Ms. Nischitha Deepak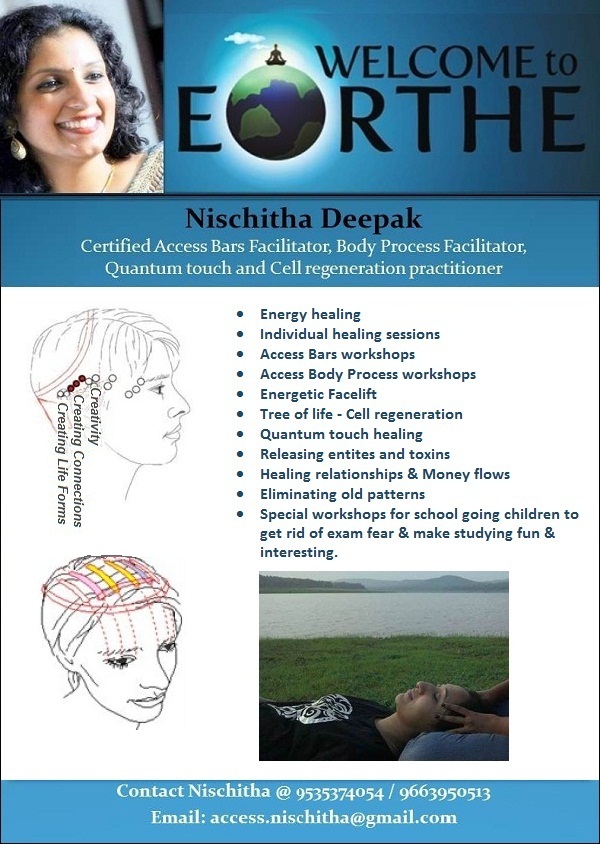 Tired? Low on energy?
Easily upset? Hold on to grudges?
Stressed? In pain?
Unhappy about your relationship with people/money?
Unhappy with work?
Just want to look and feel better?
What if you could choose a different life, a life that is not limited by ill health, difficult relationships or financial difficulties, a life that works for you? What would it take for us to create a judgment free happy world together?
Nischitha Deepak is a happiness and energy coach who has International Certification in Access Consciousness, Quantum touch healing & Tree of life - Cell regeneration.
After going through a series of health disorders since childhood for over 14 years (Irritable bowel syndrome, Gluten intolerance, Fibromyalgia, Alopecia, to name a few), she was able to overcome all of it in a span of 1 month after attending these workshops.
Fascinated by how one's physical health can be influenced so much by the energetic balance/imbalance, she took part in different levels of these workshops which gave her immense freedom from the upset and dramas of this reality. Now, Nischitha offers healing sessions and classes that address various issues like arthritis, digestive issues, respiratory diseases, allergies, back aches, depression, poor vision, anxiety, exam fear, fear of judgment, self-doubt, lack of self-confidence, thereby empowering people to create their lives from a conscious space.
She offers sessions and workshops in different cities to those interested.
Learn to tap into the consciousness of everything around you and be in communion with every molecule to create a magical life.
To know more about workshop schedules and healing sessions:
Nischitha Deepak
Areas of expertise:
Energy healing, Individual healing sessions, Access Bars workshops, Access Body Process workshops, Energetic Facelift, Tree of life - Cell Regeneration, Quantum Touch Healing, Releasing entites and toxins, Healing relationships & Money flows, Eliminating old patterns, Special workshops for school going children to get rid of exam fear & make studying fun & interesting.
Contact @ +91 95353 74054, 9663 950 513
E mail : access.nischitha@gmail.com
Please visit :
https://nischithaadeepak.wordpress.com/