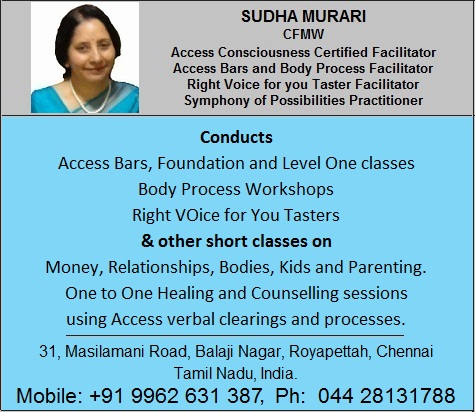 Sudha Murari
CFMW, Certified Access Consciousness Facilitator, Bars Facilitator, Body Class Facilitator, Right Voice for you Taster Facilitator, Right Relationship for you Taster Facilitator, Symphony of Possibilities Practitioner
With a wealth of experience in holistic energy practices such as Pranic Healing, Reiki, EFT, Bach Flower Remedies, Kriya Yoga, Mudra Healing, Mantra Chants, Sudha has been inspiring and empowering people for more than a decade. For the past three years, she has been changing people's lives using the pragmatic tools and techniques of Access Consciousness. Using these tools, one gets to release limitations and judgments regarding any issue through lifetimes. This consequently shifts and transforms energies and people experience more fun and ease with life, living and reality. She has discovered that Access works dynamically on individuals as it raises their awareness and healing automatically happens.
She loves facilitating people to claim, own and acknowledge their power and potency and discover their innate magical talents, capabilities and capacities. "What can I be or do different today, to make the World a more Conscious and Happy place?," is the question she asks of the Universe.
In her workshops, she shows people how to change what isn't working in their life, their body, their business, their money flows and their relationships. Instead of telling one what to do and not to do, she facilitates one to ask questions, and put his/her knowing into practice.
She offers Bars, Foundation & Level One, Body Process classes, Right Voice for You, tasters, Right Relationship for you tasters and New Beginnings class, workshops on Conscious Parents, Conscious kids, Conscious Teachers, Money workshops
She is available to facilitate private sessions using the Access Bars, Body processes, Symphony of Possibilities, verbal clearings
For more info please email to murari.sudha@gmail.com
Phone: +91 9962 631 387 & +91 44 2813 1788