Ms. Nischitha Deepak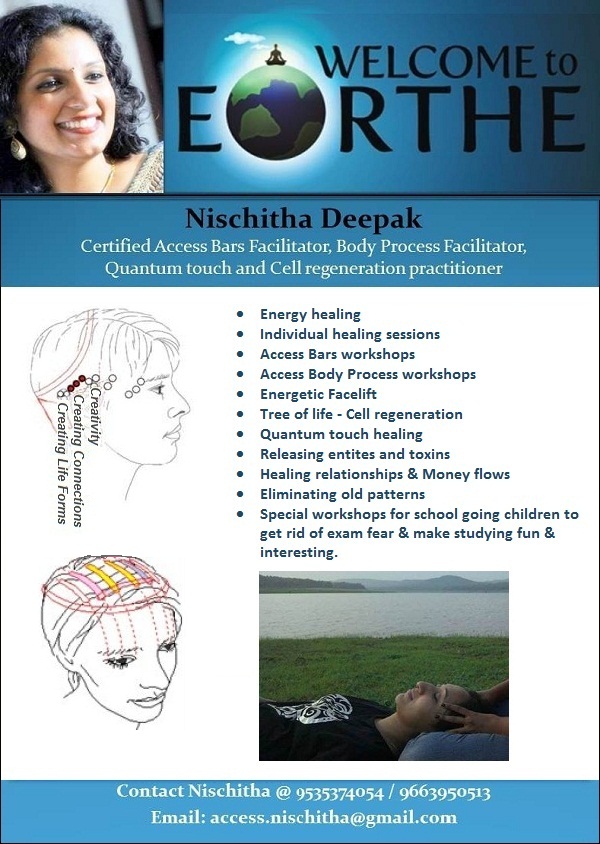 Nischitha Deepak
I am an energy transformation coach.
Having gone through ups and downs myself around relationships, health, finance, etc., I know what it feels like to be trapped in situations that don't seem to be working and not know how to get out of the mess.
What if you are the creator of your life and you have the power to uncreate things that you once created. We try to live our lives based on our past learning, our past experiences, observing others and so on.
What if there is a totally different possibility? One where you don't have to sit and figure out things, calculate outcomes, judge people and situations to make sure you are safeguarded.
What if you can just sense the energy of everything and choose to follow and pick up everything that matches the energy of what you would like to have in your lives?
You can choose to get out of all the so called upsets and dramas of this reality. My life is the greatest example of that.
How often do you give priority to other's wants and needs and expectations of you and judge yourself? Do you feel you can be a little more kind to yourself? Do you feel your body would feel less rigid and free if you got rid of all the harsh judgmentspiled upon it for years?
Prior to Access consciousness, I had digestive issues, gluten intolerance, migraine, auto immune issues like fibromyalgia, alopecia and so on which got worse over time. After undergoing a lot of tests including endoscopy and colonoscopy nobody could put their finger on any one cause. I was told that there was no cure for this and all I could do was observe and avoid factors that aggravated the symptoms.
Eliminating almost everything from my diet I found the symptoms only getting worse. After attending the Access Bars workshop, within a few weeks I started eating everything, I had no allergy and all the symptoms disappeared.
It's fascinating to see how one's physical health can be influenced so much by the energetic balance/imbalance,
Being a Certified Access Bars and Access Body process facilitator, I conduct Access Bars & body process classes in Bangalore & other places. If you would like to have a workshop in your city, do give us a call and we can schedule one.
One on one sessions: I offer 60-90 minutes private sessions to people looking for a different possibility. (Access Bars, body healing - vision correction, arthritis, digestive issues, allergy, addictions, anger issues, depression, auto immune disorders, skin problems etc.)
Rs.3,500/- for a one on one session (Call +91 9535374054 to discuss about the packages available when you choose 2 or more sessions)
Access Bars class: A one day practitioner certification workshop where you will learn how to run the Bars, how to use questions and clearing statements to change the energy of situations, and a lot more. Science tells us that cells turns elliptical when a person is stressed which is the first step to any disease. During a one hour bars session the cells go back to its original spherical shape.
Energetic Facelift: The Access Energetic Facelift is an amazing process that smoothens, tightens and rejuvenates your body and face. More than 30 processes are woven together to clear old stress energies on skin and around the bio energetic field caused by emotional blockages and environmental pollution.
Because much of our outward appearance is a reflection of what's going on internally, this process includes Access verbal processing to actually shift your point of view about ageing.
You will see noticeable results after just one session, and continued sessions create an irreversible change that will amaze you! Reverses the aging, discoloration, scar tissue, and texture of the skin, and adds a luminous glow.
A totally natural, non-invasive procedure with no chemicals, creams or drugs.
Rs.8,500/- for the 4 hour practitioner certification course
Rs.5,500/- for one on one sessions (Call +91 95353 74054 to discuss about the packages available when you choose two or more sessions)
Relationship classes: This 4 hour class looks at all the definitions you have created around relationships based on everyone else's standards that deter you from having the kind of relationship you would like to have with yourself as well as others.Rs.5,500/-
Money classes: Money is one of the excuses we use all the time to stop ourselves from living the life we would love to. Once you change your energy around money your relationship with money & yourself can be fun. I conduct 3 to 4 hours money transformation classes based on the Access Consciousness Money workbook. Rs.5,500/-
Vision correction & many more
To book an appointment call +91 95353 74054, 9663 950 513
Wellness sessions in Coorg
A complete mind body soul transformation & rejuvenation package
Choose from 4days/3nights & 7days/6 nights packages for couples and families (Stay in the coffee plantation, food, healing/rejuvenating sessions, plantation trek/ nature tour, sessions for a better communion with Earth)
Singles: Rs.18,750 for 3 nights / 43,000 for 7 nights
Couples: Rs.37,500 for 3 nights / 86,000 for 7 nights
Children: Up to 5 years complimentary
6 to 12 years: Rs.6000/- for 3 nights
E mail : access.nischitha@gmail.com
Please visit :
https://nischithaadeepak.wordpress.com/