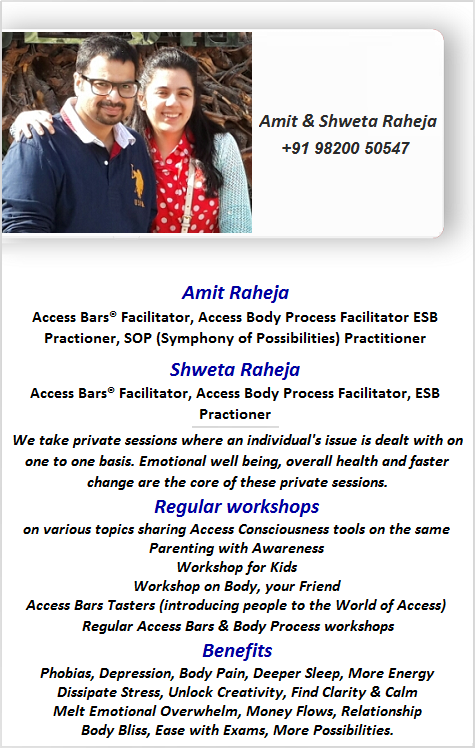 Access the bars with Amit and Shweta Raheja
Access ConsciousnessTM gives you an opportunity to look at the world from a different place. What if you looked at life from merely an interesting point of view and didn't judge everything? How would your life be if you lived in the question as an Infinite Being? What if you were able to delete all your thoughts, attitudes, ideas, decisions, and judgements you have ever had or been told to have about anything? This is a taste of Access ConsciousnessTM!
Various options to bring about a change in you
Access Bars is a part of a larger reality called Access Consciousness®. There are many other process in Access Consciousness which also contribute to bringing change in our lives.
A Bars session releases areas where the energy is blocked and opens you up to receiving more of what you want in your life. As a practitioner it is wonderful to also experience this regularly.
Bars sessions usually take about one hour each.
Connect locally with like-minded people, learn and share your experiences in a loving environment where EVERYONE is welcome. The best way to find out what everyone's talking about is to come and experience it for yourself .
If you have not yet experienced Bars book a session now to experience this informational body process which is the foundation of Access Consciousness.
Facilitators:
Amit Raheja Access Bars® Facilitator, Access Body Process Facilitator, ESB Practitioner, SOP (Symphony of Possibilities) Practitioner
Shweta Raheja Access Bars® Facilitator, Access Body Process Facilitator, ESB Practitioner
Details:
Attend a one day certified Access Bars class and become a Bars Practitioner, entitling you to practice on yourself , your family and friends (you can even charge them for it!)
Take an appointment for a private session and experience the Bars®.
You could also take an appointment to experience the advanced processes of Access Consciousness®!
Amit and Shweta Raheja also conduct 2 to 3 hour workshops on various topics sharing Access Consciousness tools on the same
Parenting with Awareness
Workshop for Kids
Workshop on Body, your Friend
Access Bars Tasters (introducing people to the World of Access)
Contact Amit and Shweta Raheja: +91 98200 50547