Net Session Options For Training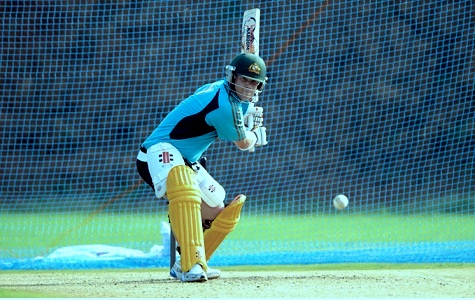 Net Session Options For Training
"Failing to prepare is preparing to fail!"
Many of the top cricket coaching in the world believe the preparation of cricket training sessions and activities are the most important components to ensure the performance of their team. Spending some time pre-season mapping out a season planner and then breaking down the plan and mapping out guidelines for each session is an invaluable exercise. Of course many variables may affect the end result of the session, but to have something to work from is the key. The key to avoiding the monotonous boredom that traditional cricket training in the nets is renowned for.
Too often net training follows the same path, that's where the batters pad-up for a 10 minute hit and everybody else bowls and then training continues until everybody has batted. The major problem with that is, because of the time length and boredom factor, a major deterioration of intensity and quality results. In an attempt to overcome the monotony of net practice, I will list various suggestions to maximising the benefits of net practice and also some training alternatives.
Traditional Net Sessions
Traditional net practice lacks purpose and tends to be mundane and monotonous. Whatever your net practice, set goals so that players are practicing with a specific purpose. This will provide them with immediate feedback of their performance in relation to the demands of the task. Net practice can provide a perfect opportunity to attend to some specific coaching demands if everyone is active. It is important to try to simulate match conditions as best we can in most cases.
Hints & Tips For Net Sessions:
All running between wickets to be completed at 100%
Fielders may be marked by fabric distributed around the net
A line may be marked one meter up the net all the way around it, which ball must be hit under
If dismissed, your time is up
Batters pad up well before their turn and 'shadow bat'
New ball may be used for opening batters
Batters coach other batters when they're not too busy
Have an 'umpire' adjudicate in each net
Batters rotate through pace and spin bowlers
Bowlers bowl in pairs; 6 - 8 balls each, resting bowler stretching major muscle groups
Spinners share net with wicketkeeper
New ball for opening bowlers
Bowlers to bowl close to stumps (inside markers)
Bowlers must follow through past a marker
Routine: running between wickets and bat swing exercises after net innings
Remove nets - set field around practice wicket
Remove back of net for wicketkeeper
Don't call 'last six'
Video nets
Spot Calls
Coach may call any one of the following for a selected period (e.g... 6 balls, 5 minutes):
Batters must run singles every ball
Batters must hit through the ball, along the ground
Set a run target (e.g... 10 runs off 6 balls
Balls must be left, if possible
Bowlers to bowl a maiden over
Bowlers to bowl off-stump, leg-stump, etc.
Bowlers must bowl slower balls only
Bowlers must bowl out swingers, in swingers, etc.
Bowlers to bowl six different deliveries
Bowlers to bowl ankle high full tosses
Lofted strokes only
Back-foot strokes only
Off-side strokes only
Charge the bowler
Footwork to spinners
Bowl around the wicket
Bowlers and batters may be set conflicting tasks to explore outcomes, e.g... Batters playing off-side strokes only and bowlers bowling leg-stump.
Net Session Examples
Using a Match Net
4 bowlers (pair the bowlers in similar types)
2 batters
Give a game scenario (e.g... 5 wickets down, 3 runs an over for the next thirty overs) Bowlers and batters develop a strategy and share this with you Bowlers set field, encourage them to try - on occasions - to rush the batsmen. Spinners may bowl their deliveries consecutively. One over on, one off teaches them about getting onto length straight away.
Batters emphasis on singles and use of a routine to help them to be optimally ready for each delivery. Allow them to call for runs, thereby changing the strike.
Letting the Ball Go
2 batters
3 bowlers
1 umpire
The aim of the task is for bowlers to deliver as many balls as possible without the batsmen being able to just let the ball go. If a batsman is dismissed then a new batter enters the net. Rotate batters if no dismissal - possibly right and left handed to teach bowlers to cope with changing line. Extra stumps may be placed alongside the off-stump to receive feedback in leaving the balls close to your stumps.
Starting an Innings
Batsman are at their most vulnerable early in their innings, however this is an aspect which is all but ignored at cricket practice. The following drill seeks to replicate some aspects of commencing an innings, thereby giving players extra practice at developing strategies for this situation.
4 batters - 2 in net at one time
4 bowlers - bowl in pairs, 1 over each then rotate
Starting an Innings
Batsmen aim to get off strike, if dismissed they are rotated. Rotate batters at any time if not dismissed after having faced more than an over up to three overs. Continue until all players have had the chance to begin their innings at least twice and ideally up to four times. Highlights to bowlers the importance of bowling well to new batsmen.
Batting Survival
Batsmen usually have time to get themselves organised before facing a delivery, however they certainly need to be able to re-focus quickly (to control arousal). Batsmen lie or sit on pitch (holding their bat) and they are not able to move into position until signaled to do so by the coach. The aim is to give them only just enough time to settle down before the bowler delivers the ball - strengthening their ability to calm themselves and focus. This activity can also be useful for bowlers who may initially find difficulty in concentrating on the task. Quite tiring for batsmen and therefore they face only 5 - 10 deliveries before they rotate
Pepper Batting
Batsmen in normal stance ready with two throwers half a pitch away, one on each side of the pitch with a ball each. One ball is thrown, batsman encouraged using correct and quick footwork and once stroke is completed the next ball will be fed and played accordingly. NB: If the level of intensity drops below your expectations, end the net session. Move onto something that will use the time more effectively, such as some physical conditioning or fielding drills.
Centre Wicket Practice
Use as regularly as your curator allows
Simulate game situation as much as possible
Batsman dismissed, end of his batting time
Bowlers bowl six balls at a time

Encourage:

Emphasis on running singles (2 per over)
Correct calling and running procedures
Accurate returns
Attacking fielding at all times
Bowling to plans
Centre Wicket Net Sessions
In the format of dual pitch cricket (details following), one team fielding whilst the batting team will be working purposefully in the nets until their turn to visit the centre wicket.
Dual Pitch Cricket
Pairs Dual Pitch cricket is designed to keep all players actively involved in the game at all times. The game is conducted on 2 pitches adjacent to each other, i. e. adjoining grounds.
There are 10, 12 or 14 players on each team. In a team of 12, 10 players on field, 2 players bat. Team I fields on Pitch A and bats on Pitch B. At the same time Team II fields on Pitch B and bats on Pitch A. Each team is divided into pairs and each pair bats for 2 overs irrespective of wickets lost. At the end of their 2 overs the batting pair swaps with 2 of their team mates fielding on the opposite pitch.
The batters change ends at the fall of a wicket or after 3 consecutive non-scoring deliveries. Batters may be dismissed by all the usual means except LBW.
During the game each player will bowl one over.
The score is calculated on the product of wickets taken and runs scored.
e. g. Team I captured 9 wickets and made 62 runs
Team II captured 5 wickets and made 72 runs
Results: Team I 9 x 62 = 558
Team II = 8 x 70 = 560
If a team fails to lose a wicket both teams add one (1) to their wicket totals.
Training Format Options
Tabloid - Groups Of Six
Commencing each time six players arrive. Groups will rotate through six stations (for 36 players), assuming we have two nets and all required equipment. For a 90 minute session, groups will spend 15 minutes at each station (nets count as two stations, i.e. 30 minutes).
Activity 1 Conditioning: 10 x 50m, 10 x 40m, 100 sit-ups, 60 push-ups, 50 half squats
Activity 2 Catching Tennis: 3 on 3, marked area with dead zone
Activity 3 Nets: Bowling in pairs with purpose
Activity 4 Nets: Batting in pairs with purpose
Activity 5 Fielding: Long, short - ground and catching
Activity 6 Flexibility: PNF, major muscle groups
The six activity stations could be made up of many activities such as throwing at stumps, cradle catching, tennis ball/racquet catching, mini-soccer, weight training, football drills, basketball drills, batting off tees, target bowling, running between wickets, agility tests, etc.
Benefits
Early comers can do their training and avoid hanging around
Late comers will do the same workload as others
Variety
Specialize (small groups)
Clear session outline
Direction, purpose
The amount of drills and activities that can be built into the sixes format is endless. Any combination of skill and fitness activities can be incorporated, dependent on relevant objectives and focus of the session.
Many of the skill development activities following would be most suitable for building into the 'groups' format.