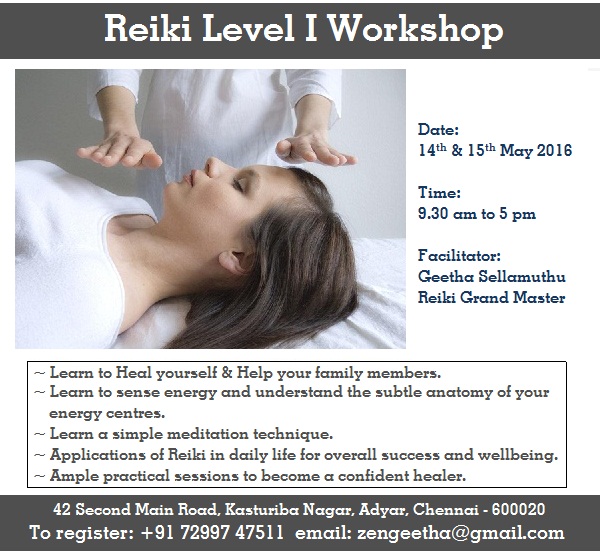 Your Contribution:
INR 6600-00/-
Enthusiastic Participation
An open mind to try a new healing technique
My Contribution:
Initiate you to Reiki
Give you an attunement
Ample practice sessions
Help you sense energy
Explain to you about your Subtle Energy Body
Teach you how to integrate this gentle healing energy in your daily life
Provide you a manual for your reference
Create a safe and pleasant environment
Refreshments and lunch
Your Facilitator's Profile
Geetha Sellamuthu is a Reiki Grandmaster .She has facilitated all levels of Reiki classes since 2000 at her centre.
She is a Master Teacher of the Diana Cooper Foundation and regularly holds Teacher Training Intensives on Angels, Ascension, Transform Your Life, Lemurian Planetary Healing and Golden Atlantis.
Soul Coaching & Angel Tarot Card Reader.
Aura-Soma Colour Care Practitioner.
Permaculture Garden designer.
Pyra-Vastu space care consultant
Timings 9.30 am to 5 pm on 14th and 15th May 2016
Venue: 42 Second Main Road, Kasturiba Nagar, Adyar, Madurai 600020
Contact: +91 72 99 74 75 11 to enrol.
Email: zengeetha@gmail.com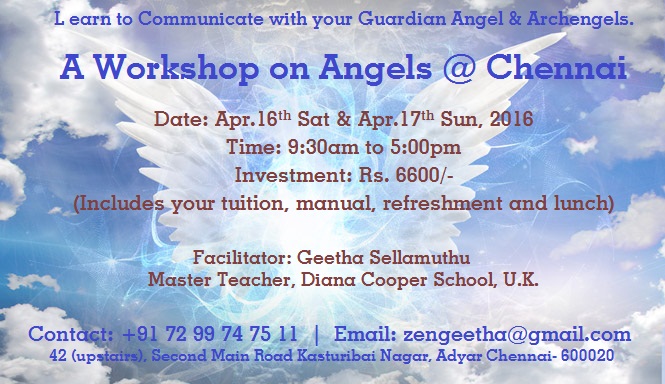 Illuminate Your Life With The Angels
Angels are highly vibratory seventh dimensional beings of Love and Light.
We all have a Guardian Angel guiding and guarding us through all our lifetimes. When we learn how to align with these wonderful beings they are willing to bring our lives to a high degree of coherence and effortless ease.
In this two day workshop you will learn :
You will learn to communicate with your Guardian Angel.
You will learn to release fears and traumas with the help of the Angels.
You will learn to open to love and let go of hurt and resentment.
Powerful protection techniques.
Effective manifestation with Angelic help.
Release your karmic issues which may be holding you back.
Learn to integrate with the Angelic kingdom in your day to day life.
Your investment of time, effort and money will be richly rewarded by increased well being, effortless ease, joy and exuberance in your life.
Profile of the facilitator:
Ms. Geetha Sellamuthu is a Master Teacher of the Diana Cooper School U.K. and is a trained in the following modalities: Angels, Ascension, Transform Your Life, Golden Atlantis and Lemurian Planetary Healing.
She is a Master Teacher Trainer of Reiki Healing.
A certified teacher and Spiritual Life Coach of "Heal Your Life" based on Louise Hay's work.
Date: Apr.16th Sat & Apr.17th Sun, 2016
Time: 09:30 am to 05:00 pm
Venue: 42, Second Main Road, Kasturba Nagar, Adyar, Madurai- 20.
Investment: Rs. 6600/- includes your tuition, manual, refreshment and lunch.
Contact: +91 72 99 74 75 11 to enrol.
Email: zengeetha@gmail.com
Learn how to heal and balance chakras and auras with our certificate training course, especially design for those of you who may already or are planning on working in holistic health OR for the self healing.
This course will bring new awareness and healing techniques that can be used alongside a variety of holistic therapies for CHAKRA AND AURA HEALING through...
HEALING AND BALANCING
COLOUR THERAPY for chakra and aura
CRYSTAL HEALING for chakra and aura
MEDITATION for chakra and aura
AFFIRMATIONS for chakra and aura
UNDERSTANDING CHAKRA AND AURA
TO SEE AND EXPLORE CHAKRA AND AURA
GROUP WORK for chakra and aura
WHAT IS CHAKRA - A chakra is literally – from the Sanskrit – a spinning wheel. Although typically represented as a vertical row of rainbow dots along the front center of the body, each of the in-body (lower 7) chakras is much more than a colored dot. Viewed front on, each chakra is actually a spinning wheel of color – a vortex.
WHAT IS AURA- We all have an aura – whether we can see it or feel it or not. The aura is made of a more "subtle" substance than is the physical body, but this does not make it any the less real, or in fact any the less physical – it is simply physical in a different way. The aura is affected by all kinds of things: the way we think, who we talk to, our environment and so on.
Please visit :
http://www.kirticounselor.com/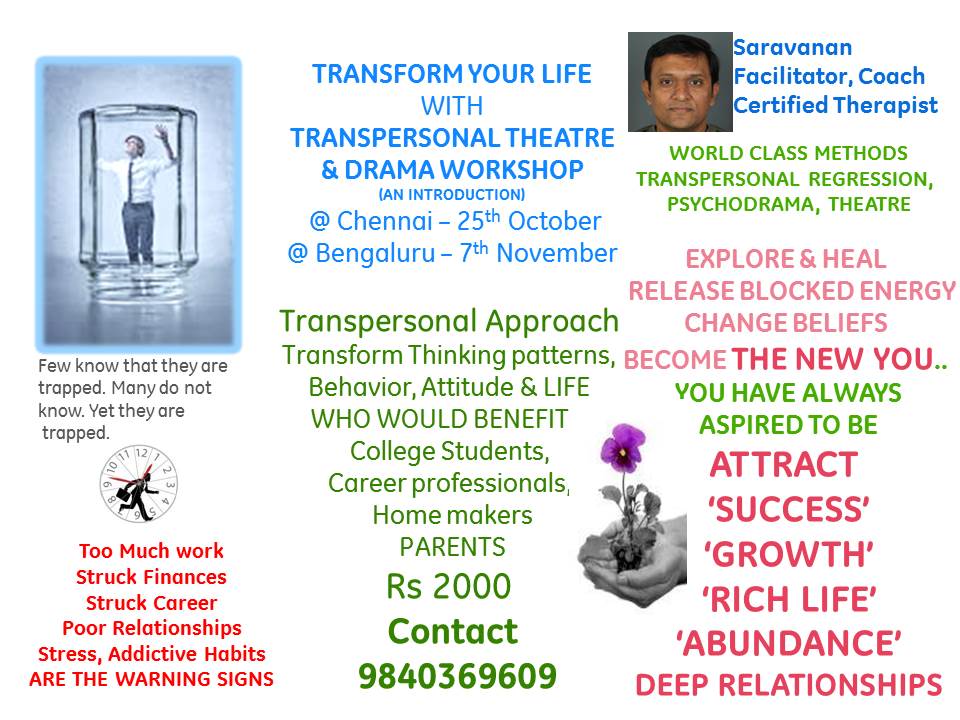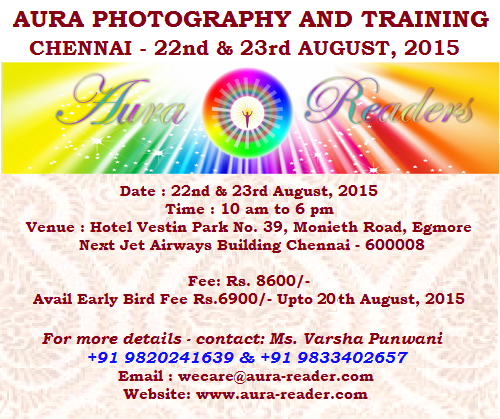 AURA PHOTOGRAPHY AND TRAINING
CHENNAI - 22nd & 23rd AUGUST, 2015
Omnipresence Academy of Life once again brings you an opportunity to learn how to interpret Aura Photography.
In this training program you will learn to:
Take a suitable digital photograph for the purpose of aura photography
Scan it with the help of Aura Readers® Software
Interpret it in detail
Use the interpretation for the purpose of Healing / Vaastu / Counseling etc.
Use the information to make decisions with regard to important personal matters such as partner compatibility.
Create a professional aura report
Conduct effective follow-up with clients
Who can do this training program?
Healers, Vaastu and Feng Shui consultants
Medical Practitioners
Counselors
Behavioral trainers
Anyone who would like to learn about Major and Minor Chakras (energy) and their impact on life.
We recommend:
You need a digital camera
Dress code: Aura Reading is easiest if one wears white clothes, or at least top / shirt should be white. Trousers / collar should be loose to roll up.
Optional requirement:
Laptop with Windows XP or Windows 7
Date : 22nd & 23rd August, 2015
Time : 10 am to 6 pm
Venue : Hotel Vestin Park No. 39, Monieth Road, Egmore, Next Jet Airways Building Madurai - 600008
Fees: Rs. 8600/-
Avail Early Bird Fees Rs.6900/- Upto 20th August,2015
Inclusive of Course material and a comprehensive online post-training support through a group where Aura Students All India and Abroad get together to practice and discuss various aspects of our Aura.
Facilitator: Aatmn ( Dr Neeta Yuvraj )
Payment Options
Deposit into our HDFC A/c by Cheque / Cash / Online Transfer
Please get details from
Ms. Asha Gokhale : +91 9820241639 & +91 9833402657
E mail : wecare@aura-reader.com
Please visit:
www.aura-reader.com
Conducted by: Omnipresence Academy of Life (OAOL): Headed by Dr. Neeta Yuvraj and Siddhi Pandya, the organization helps several people across various cross sections of society to discover their unique strength to make a positive difference in their lives.
Frequently Asked Questions:
Q: Do I have to purchase the aura software to take part in the workshop?
A: No. You do not need to purchase the software; but having a software with you could give you an easy way of practice. You can always take the help of your colleagues to scan your digital pictures or send the photos to be scanned at a very nominal cost of 1 US dollar per picture.
Q: Do I have to wear white clothes?
A: The reading of aura software is much more easy if one wears white clothes, or at least the top/shirt should be white without collar, preferably with open neck and short or no sleeves.
Q: I am not computer savvy. Can I still use the software?
A: We can train you to use the software effectively even if you are not computer savvy. The training takes less than 10 minutes of your time.
Payment Options
Online Payment through Credit Card / Debit Card / Cash Card
Inviting all the 'wonder'full beings who would like to experience what else is phenomenally possible with the new reality shifting Access clearings which debunks the Newtonian third law and also unplugs you from the 'cause and effect' matrix.
Those who wish to participate in these transformational classes in Madurai, kindly register in the link given below
http://www.accessuniversalconsciousness.com/#!services3/c1cnt
Contact: +91 91760 85865
Prajna-Light Activations of The Gaia-Dawn Core Heart - 12th & 13th March 2015
Spiritual Initiations to activate the Diamond Wisdom of the Heart
Source Light Activations of The Gaia-Dawn Core Heart - 14th & 15th March 2015
Spiritual Activations to Merge with the One Source Heart
Divine Alchemy Activations of The Gaia-Dawn Core Heart - 16th & 17th 2015
Spiritual Alchemical Activations to release your Inner Gold
Contact-Channel & Originator Ms. Saranya Zaveri: +91 99400 39133
Email: zezbuz.so@gmail.com
Email: saranyazaveri@hotmail.com
Please visit :
http://www.gaiadonheart.com
Access Energetic Face Lift class @ Madurai
Dear Friends
An amazing process which reverses the appearance of aging on the face and creates similar effects throughout the body. The treatment is purely energetic, restoring the natural flow of energy to the skin and body creating a radiant and lifting effect. Sagging and wrinkles can be reduced right from the first session in many cases. The treatment promotes more radiant and younger looking skin. The face lift is a wonderful way to revitalize the face and neck in a pampering and nurturing way.
People who have tried the treatment experience intense relaxation, good for mind, body and spirit!
This unique technique involves using multiple frequencies which restore the natural flow of energy in and around the body.
Using hands as neurotransmitters, gentle touch is applied to the face, neck and chest. This facilitates clearing blocks in the energy fields, those points of stagnation usually caused by our emotions and long term stress.
The results is your whole body benefits, you feel great and you look younger! How does it get any better than that?
This is a %100 natural treatment for your face, no injections, lotions, surgery, or any invasive procedure or chemical laden cream, just a gentle touch and energy.
nother chance to attend this fun class, and become a certified Energetic Facelift Practitioner.
These are some comments from previous students about the Facelift class:
"Not just a face lift it feels more like a persona lift, OMG what will I be like after 20 sessions?"
"My skin feels softer and my face (& 'self') feels brighter and when I look in the mirror I definitely look younger – I thought about 10 years!!"
"After one Energetic Facelift the redness and scarring seems not so dark, it is paler than it was. The small lines are definitely less around my mouth, a result I'm happy about!"
"I think even my boobs have lifted!"
What else is possible?
The Access Energetic Facelift™ is a wonderful way to rejuvenate the face and reverse the appearance of aging.
What if you could have a natural facelift instead of going under the knife or having to resort to chemicals like Botox?
What have clients noticed?
A lessening of lines, wrinkles
Improved eye-sight
Firmness and toning of facial muscles and overall skin
Healing of and reversal of the scarring process
Healthier skin and overall appearance
Possibilities for your life showing up better than you may have ever imagined!
What's Missing?
There is NO surgical procedure
NO injections, peels or drugs
NO recovery time
NO facial exercises
NO creams or products to buy or use
NO lengthy consultations and NO risk
Access Energetic Facelift™ Classes coming soon!
The Access Energetic Facelift™ is an amazing process that smoothes, tightens and rejuvenates your face and your body. No surgery, no injections, no drugs! How does it get any better?
People who have received this process have reported it is like having a life lift, more energy, stability and clarity. What great side effects!
During this class you will learn to give a complete Access Energetic Facelift™ as well as receive a full session yourself.
The Access Energetic Facelift™ has been provided professionally in spas, massage practices, anti-aging and wellness centres worldwide. A brilliant addition for any beauty therapists business, and/or massage therapists wishing to extend to their clientele.
Why not learn the Access Energetic Face Lift™ with a friend or two so you can gift and receive the benefits if this dynamic process on a weekly basis?
You can see the difference from one session, just imagine what if would be like if you had 20 sessions…
Facilitator: Rajeshwari Raji Raaman
Contact: +91 91760 85865
Location: Madurai
Date: Sunday 15 February 2015