KUAN YIN Oracle Reading

Nirvana Spiritual Retreat - Poonam Shah
Poonam Shah the founder and visionary from Nirvana Spiritual Retreat - I can Heal, who hails from Madurai, is a committed Certified Spiritual teacher, Healer and Practitioner of therapies like Divine Healing Hands, Magnified Healing, Kuan Yin Oracle card reading, Tarot Card reading, Angel Healing and Chakra Healing. Her vision is to carry forward the eternal work of Mother Kuan Yin in healing the universe.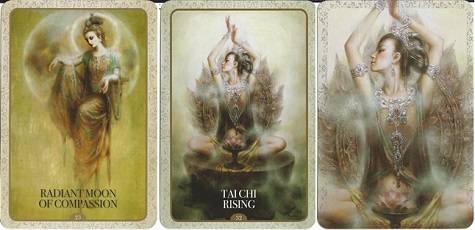 KUAN YIN Oracle Reading
Ever felt like quitting when things were getting despite having the wisdom and the courage to take bold actions. Has anyone found you confused? Are you looking for answers to questions which are not so simple in life?
Better still, would you want to create an amazing outlook towards life one that will make people remember you forever?
The answer is Yes, nothing is impossible and solutions are within us. There only needs to be a guiding light bright and clear enough to transform us out rightly.
Let us know who can help. Amongst the many futuristic card readings there is one very powerful and accurate by the name of Kuan Yin Oracle cards. Mother Kuan Yin is the goddess of Mercy and Compassion, a true manifestation of the divine mother who serves mankind in a cosmic form. Her name also means one who regards, looks on or hears the sounds of the world. The reading happens through a set of 44 cards in this deck guide you to a place of inner peace and beauty that user her energy reaches out to you from each card. The messages, inspired by her presence and guiding voice, contain her wisdom to help us live a loving and enlightened life that is practical, spiritual and positive. The guidance in the messages and the practical exercises for each card nourishes you on your spiritual path and helps you get answers to all the questions we constantly deal with.
Tap into the loving strength of Kuan Yin through imagery, words, and mantras and watch your life change. The comfort and advice found in her messages reflects the compassion and spiritual certitude that is associated with this beloved goddess.
How would it be to have one-to-one with a Counselor who knows and understand you better then yourself? Someone you can trust implicity. Someone who will ever tell you the absolute truth even if it is not what you were hoping go hear? Someone who will never tell you what to do but will give you sound advice to which choice may serve you the best. Someone who can answer and and all questions accurately about any aspect of life!!
Sounds Impossible? Well the answer is "NO" its not impossible. With the help of Kwan Yin channeled messages and her Oracle Card Readings it is possible to receive clarity, blessings, karmic healing and accurate guidance!!!
Many have benefited from these and are today living a transformed and happy life. Should you try once??