Significance of Hanuman Chalisa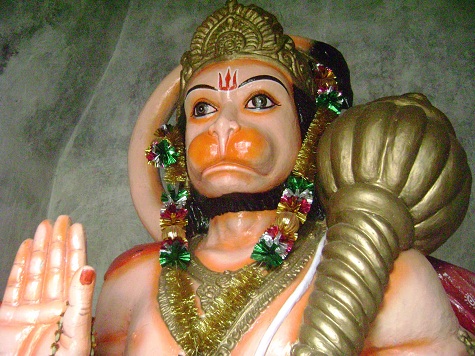 The Hanuman Chalisa is a 40 verse prayer to Hanuman, the great devotee of Lord Rama in the Indian spiritual epic the Ramayana. It is believed that by reciting with love and devotion the divine qualities of Hanuman, we remember those qualities in ourselves.
Hanuman Chalisa is a devotional prayer with poetic expressions sung for Lord Hanuman, the devotee of Lord Rama and the son of Pawan (wind). Lord Hanuman is believed to be a descendant of Lord Shankar. He is worshipped for his immense strength, intelligence, true knowledge, and an ardent disciple of Lord Rama. Most of the bhakts of Lord Rama also pay homage to Lord Hanuman.
Hanuman Chalisa was originally written by Goswami Tulsidas in the Awadhi language. The poem is a lengthy one with forty versus or chupais. Every verse praises the Lord for his unmatchable qualities.
The devotee enchanting the poem praises the physical strength of the Lord, his qualities of being a great listener, and his unmatched devotion to Lord Rama. He also praises all the yogic powers of the Lord, such as his ability to enlarge and diminish his physical appearance and holding the entire Parbat on one finger. He also applauds his splendid valor that is enough to keep all negative forces at bay.
As Lord Hanuman is also known as Sankat Mochan Hanuman, it is commonly believed that people who recite the prayer regularly sail easily through the ups and downs of their lives. It is said that the Lord takes care of all your problems if you surrender yourself completely to him. The Lord also bestows you with the mental strength you need to confront situations. He also grants his yogic powers to his unconditional disciples. A verse in the Chalisa says that if you enchant the poem 100 times daily, you will be free from the bondage of life and death.
In India, every day is dedicated to a particular deity. Tuesdays and Saturdays are the days of Lord Hanuman. If your busy schedule does not leave enough time for you to enchant Hanuman Chalisa daily, then should do it on the dedicated days.
It is one of widely enchanted prayers across the country. Today, it is translated into many languages for devotees across the world. The Hanuman Chalisa is available in various forms like pocket books, CDs, DVDs, and cassettes. It can also be downloaded from websites.