Mr. Amit Kapoor - Access Bars Facilitator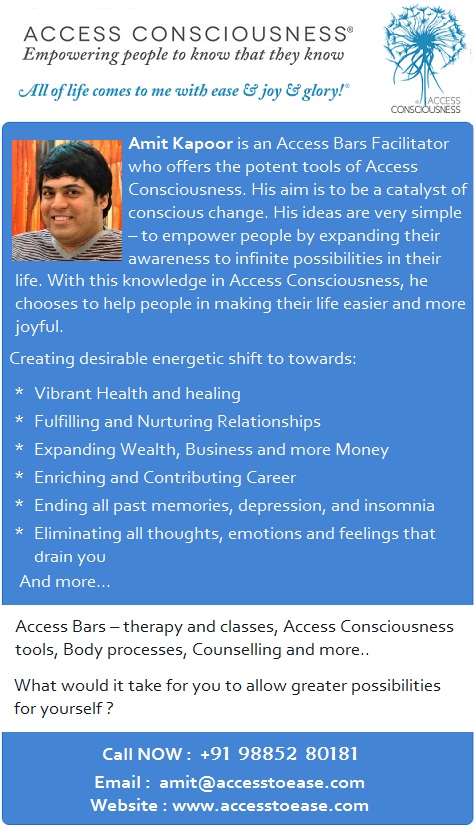 Mr. Amit Kapoor is an internationally licensed Access Bars Facilitator.
Connecting with people at a deeper level, and helping them to empower themselves is a natural trait Amit is well-known for. Operating from intuition to "being truly aware" is a beautiful journey. Amit's journey into the self empowerment modalities began as a kid. He grew up living in extreme situations with his health, body, money situation, relationships, family life and also career, pondering - "Do we let other people's ideas of us, and their limited perspective of who we are, control us? If I could truly change this totally, what can I do? "
Amit had tried and tested a lot of ways to improve his circumstances in his life. From Metaphysics to being downright worldly wise, he tried to fix everything, and even himself. Everything he learnt contributed to an extent. He wondered - "What would it take to change my story to a happier one?"
And as dramatic as it sounds, so real it is - You ask the Universe, it always given!
Amit found Access Consciousness tools! Right from the start Access Bars has been a truly phenomenal experience for him. Using these tools, many deep rooted thoughts, emotions, feelings and cellular memories that did not contribute to overall wellness just dissipated. He began to feel how this energetic shift made him a creator of choice.
Asking about Access Bars Therapy and the Access Consciousness tools Amit Kapoor says, "It's like unwinding of all details of the unpleasantness that I was enrolled into all my life, and re-winding the core nature of who I am, who I always was and hadn't been acknowledging lately. It's simply phenomenal when you gain the awareness of being able to see yourself and everyone with the eyes of least judgement...(until you get to a place of no judgement)
And from that space of allowance, a shift begins! Everything changes as if it were magic!"
Amit understands those who experience struggle and feel burdened by it. As a trainer, coach, healer and facilitator, Amit juggles several skills to help people step out of their disharmonious states. His approach is to understand what stops people to create the life they want. He facilitates to help them gain total awareness of what in their thoughts, feelings, emotions and cellular memories affect them. Then, adapting the Access Consciousness tools, Access Bars Therapy, Body Processes, and Energy Clearing techniques processes everything unwanted out of their mind, body and being.
Thousands around the world are now choosing a way out of all "trauma" and "drama." People are consciously stepping into their space of empowering themselves today. Ask yourself - "Would I be willing to allow EASE and JOY to show up in my life right away?"
Imagine, if you knew by experience that the power which you seek is within you, what would you create in your life? Everyone who is willing to create a life filled with EASE, and JOY and makes a choices to reach out to Amit, is assisted into the world of conscious creation through
Access Bars Practioner's Class - One Day workshop
Access Bars Therapy - About 1.5 hours
How to become Money Class - 4 hours
Online counselling on Skype - 30 minutes
Energetic Body Processes and Energetic Face lift (Offering soon)
Amit Kapoor is from Hyderabad, India. He travels to other cities to conduct training classes as well. Learn to tap into your infinite magnificent selves in every practical way you can imagine. You may reach out to him directly:
Contact :+91 98852 80181
Email : amit@accesstoease.com
Please visit :
http://www.accesstoease.com