Anxiety & Depression
Holistic Innovation - Dr. G Ruthara

Dr. G Ruthara is the founder and CEO of Holistic Innovation, a company that provides services and workshops on personal and professional empowerment through alternate healing methods such as Shamanic Healing, Theta Healing, Neuro Linguistic Programming, Mind Programming...

Ms. Rajeshwari Raji Raaman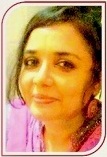 I am an Access Consciousness Certified Facilitator - CFMW, Access Consciousness BARS Certified Facilitator Energetic Access Face Lift, Access Body Process facilitator, Right Relationship for You Taster Facilitator, Right body for you Intro Facilitator, Reiki, Magnified Healing, Platinum Ray, Shivyog Shambavi Healing and Srividya Meditations, located in Mylapore, Chennai, TamilNadu, India.

Ms. Sudha Murari.
CFMW, Certified Access Consciousness Facilitator, Bars Facilitator, Body Class Facilitator, Right Voice for you Taster Facilitator, Right Relationship for you Taster Facilitator, Symphony of Possibilities Practitioner. With a wealth of experience in holistic energy practices such as Pranic Healing, Reiki, EFT, Bach Flower Remedies, Kriya Yoga, Mudra Healing, Mantra Chants

Mr. Nawal Banthia

Nawal Banthia is a Certified Access Bars Facilitator. He is committed to assisting & guiding anyone who comes for the classes, towards more consciousness. He has been guiding & facilitating people to create a different reality beyond this reality.

Ms. Anju Saini

Anju Saini acknowledged as internationally known psychic, whose work as a teacher and reader has established her firmly as an expert in many paranormal fields. She has been reading the Tarot from a decade and is considered to be one of the Brilliant Tarot Reader and Counselor, known for an excellent grip over the art of Tarot Cards Reading and trainings, Reiki Healing and Quantum touch classes.


Ms. Ritu Bahri
Ritu's unique integrative Energy Healing modality is drawn from a spectrum of healing modalities, including Reiki, Karuna Reiki, Aura scanning, Chakra balancing, Embodying the living principles of self-transformational human evolution.


Ms. Vira Komarraju
ReikiUrja - Holistic & Clairvoyant Healing Space - Holy Fire Reiki & Holy Fire Karuna Reiki healing, Past Life Regression Therapy (PLRT), Hypnotherapy, Crystal healing, Fairy & Angel Card readings, and Archangel Michael & Raphael healing.


Ms. Anjali Nagpal
Anjali Nagpal is a business trainer, a life coach and workshop facilitator certified to present Heal Your Life transformational workshop worldwide (based on the philosophy of Louise L Hay) approved by Hay House, US. She also conducts others workshops relating to self healing.

Krish Consultations - Ms. Poonam Sharma

Poonam Sharma is widely known for offering superior standard and precise services. Based in Chandigarh, she runs a Wellness Centre called Krish Consultations. The Centre is widely visited by a broad clientele within and across the nation.

Cosmicx Healing Art - Ms. KripaJyoti Nisha Singla

KripaJyoti Nisha Singla (PGDBM) is a Spiritual master, Energy worker, Reiki Master, Theta Instructor, and a dedicated Artist who has been working in the field of healings, spirituality, counselling, relationship healing, family therapy and alternative medicine therapies from more than 12 years.