THE UNFORGIVING BODY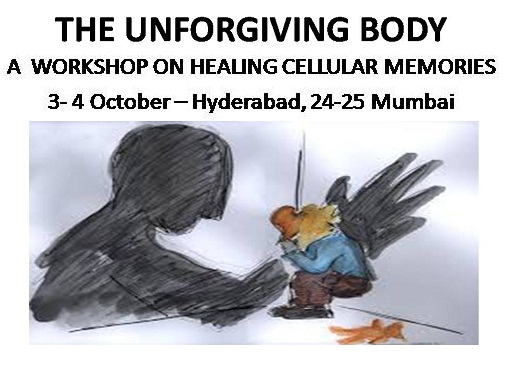 Traumatic memory is more lethal than the sharpest knife. More subtle than air, it resides as an energy form in our unsuspecting cells and attacks us when we least expect it. It takes away life from our most important relationships, zest from our careers, blinds us from becoming self aware and be in the moment of here and now.? The need to clear away the energetic debris of emotional trauma in our lives cannot be over emphasized.
Emotional trauma disrupts the body's natural equilibrium. In such cases, the nervous system gets stuck in overdrive and tends to react to situations with immense anxiety, fear and panic. "Healing Emotional Trauma" addresses this imbalance and helps re- establish your physical sense of safety, bringing the body back to its natural equilibrium. "The unforgiving body" is a unique body-centered healing approach which empowers the body to heal itself, experiencing power and freedom.
What you will learn ?
The psychology and physiology of trauma
The energetic impact in the short term and the long term - - effects on health.
How we create life long detrimental patterns
Learning to listen to the body - The chatter of consciousness
The four warning signs
Identifying & removing energy blockages
Steps to remove energy blockages Investment : Rs. 8000/- Discounts available for old students and early birds
Contact : afsha@theinnercourtyard.org or call at Phone: +91 40 6943 1538 website:www.theinnercourtyard.org

About Dr. Rajiv Naidu
Rajiv is a well known homeopathic doctor based out of Mumbai, whose search for finding the root cause of disease and emotional problems led him to explore different healing modalities which do not merely treat the symptom but remove the problem from its very source.
Through his practice as a physician, he realized that the body is not just a machine which gradually ages and dies. It is the receptacle of experiences which are stored as memories in the energetic body of the cell. His interest in Mind-Body- Soul connection prompted him to be trained as a Counselor and Health Psychologist, and then qualify as a Clinical Hypnotherapist and Past-life Regression therapy.
Dr Naidus interest in healing the mind body disruptions in energy patterns helped him develop a unique body-centered therapy using Body Experiencing and healing through Breathing, Movements and Body Sensing. Core Somatic Integration? has been accreditated by the Dubai Health Authority
He is a Yoga, Taichi and Qigong trainer. His special interests are meditation and martial arts.
He is an eminent Life Empowerment Coach and Wellness Management Consultant. .
He specializes in Integrated Clinical Hypnotherapy and Past-Life Regression Therapy to help people resolve energetic blocks through hypnosis and age regression.
Dr Naidu's work has received wide national coverage on national tv for his contribution to energy healing, specially through the body.
He works with Open groups, Educational Institutions, Business Organizations and NGOs conducting empowerment seminars & workshops.