Presentation skills

Ms. Lakshmi Chandra
Prof Lakshmi Chandra retired as Professor of English from the English and Foreign Languages University, Hyderabad, a few years ago. She has a doctorate in American Literature. She has taught one of the most popular courses - The Use of English. She has taught English to foreigners, MA students and to teachers of English....

Gguiding Angels - Arpita Banerjee

She is a certified NLP Practitioner, Clinical hypnotherapist, Tarot coach, Reiki Master, consultant of Dermatoglyphics Multiple Intelligence test (DMIT), Psychometric Multiple Intelligence test (PMIT) and a psychological counsellor...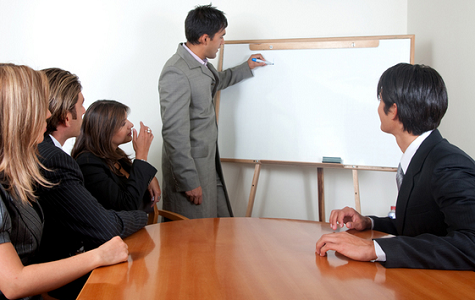 Improving Presentation Style
An effective teacher is an excellent communicator and therefore thinks about improving his or her presentation skills. One of the most important aspects of communicating is shaping both content and style to fit your audience. In the classroom, if you cannot communicate in a way that is both comprehensible and interesting to your students, their learning will be greatly reduced.
To strengthen your presentation skills, focus on improving your skills in these three areas:
1) verbal and non-verbal communication, 2) effective use of the chalkboard and visual-aids, and 3) effective and meaningful organization of content.
Verbal and Non-Verbal Communication
Find out all you can about the room in which you will be presenting. Visit the room ahead of time to familiarize yourself with its size and layout, as well as the type of chalkboards, chalk, erasers, and multimedia available. In addition, obtain any necessary training on the multimedia.
Use the classroom as a stage. Move around to engage and interact with your audience. Do not stand in one spot the entire time. Move with purpose; do not walk aimlessly.
Prepare. Preparation is essential. All excellent teachers are well prepared for each class. Practice in the room if you can, especially if you are new to teaching. In addition, prepare yourself emotionally and psychologically by taking the time to organize your thoughts and to look forward to teaching before every class.
Speak loudly and clearly. Project your voice and face your audience when you are speaking. Speak slightly louder than you do in a normal conversation. Use a microphone in a medium to large classroom. The class may include students with hearing problems. Moreover, a microphone will help ensure that students can hear you even when you turn to the chalkboard momentarily.
Modulate the tone, pitch, and speed of your speech. Do not speak in a monotone. Vary the pitch and speed of your voice for emphasis and effect. Use appropriate pauses. Rather than using filler words such as "uh," for example, simply pause before moving on to the next idea or point.
Use gestures and facial expressions to help you explain, emphasize, and communicate the material. However, be careful not to develop distracting habits such as pacing or repeatedly adjusting your glasses or hair. To find out if you are unconsciously doing anything that may be distracting to your audience, have a colleague observe one of your classes or have your class videotaped. To schedule a videotaping and teaching consultation, call The Teaching Center at 935-6810.
Develop a teaching persona. Decide how you want to be perceived and what mannerisms you want to have. For example, do you want to be quiet, humorous, formal, or informal? Whatever persona is right for you, aim to convey confidence and ease. Move with certainty and assuredness, and be careful not to seem pompous or intimidating.
Show passion and enthusiasm for the topic. If you are not interested in the subject, you cannot expect your students to be interested, either. Point out the fascinating aspects of what they are learning.
Do not read your notes or slides. Doing so will lower your energy level and lead your audience to feel less engaged.
Interact with and pay attention to your audience. Make eye contact with the students, not with the wall or chalkboard. Build a rapport with the class. Make sure the class is with you (following and understanding what you are discussing). If they appear to be lost, take additional time to explain points and to ask and answer questions.
Do not take yourself too seriously. Be able to laugh at yourself and your mistakes. Feel free to bring humor into the classroom, but direct it at yourself, rather than at your students questions and ideas.
Keep track of the time. Do not start early or end late. The students often do not recall or listen to information presented after the class period is technically finished.
Effective Use of the Chalkboard and Visual-Aids
Using the Chalkboard
Write legibly and big enough that your writing can seen in the back of the room.
Think about the organization of the material on the board.
Fill one board at a time, starting at the top of each board and writing down.
Do not scrunch in words at the very bottom of the board or in the margins. The students in the back will not see the words at the bottom, and no one will see the words in the margins.
Underline or mark major assumptions, conclusions, etc.
Use color to emphasize points.Before the course starts, determine which colors are most visible in the back of the room.
Erase a board only when you have run out of room.
If you find a mistake on a previous board, do not erase it. Cross it out, then write the correction in, which is what the students must do.

Using Visual Aids, such as PowerPoint Slides

Do not use visual aids unless they serve a clear and important purpose. Visuals should aid quick comprehension and support the main points.
Book and check out the presentation equipment in advance.
Talk to your audience and not to the screen.
Use the visuals to enhance your presentation, not as a substitute for a verbal presentation.
Use a pointer, if necessary.
Coordinate the audio and the visual.
Use too few visuals rather than too many. However, exactly the right number of visuals is the goal!
Design your visuals with clarity and simplicity in mind.
1. Use single words or phrases.
2. Organize the content visually.
3. Choose a font that is easy to see. Choose a font that is simple, plain, and easy to read such as Times New Roman, Ariel, or Helvetica. Select a font size that is large enough to be seen at the back of the room. The minimal acceptable size is typically 24-point. Use both upper- and lower-case letters; all upper-case letters are difficult to read.
4. Keep the design simple. Too many words, graphics, or different colors are distracting and cause students to miss the important points.
5. Use short quotes, not long extracts, from documents.
6. Assign a title for each visual. Doing so will help your audience organize and retain the information on each visual.
7. Use summary lists.
8. Limit the number of ideas on each visual. For example, limit the number of bullets on a page to approximately 4 to 6. Each bullet should be short, approximately one line. Do not crowd the visual with text; it will be too difficult to read.
9. Use color for emphasis and organization. Color is useful, but needs to be used judiciously. The color should be used for emphasis or for distinguishing among data. Think about the color wheel: adjacent colors blend together and colors directly opposite each other are contrasting and provide better readability. Reds and oranges stand out, but are hard to continually focus on; therefore, use these colors only for emphasis. Greens, blues, and browns are easier to continually focus on, but do not grab a person's attention.
10. Design diagrams and tables that are simple and clear, with readily recognized symbols. Your audience must be able to read all data in your diagrams and tables. Often, this means that you will have to simplify a more complex or detailed table or diagram that has been prepared for a printed format.
11. Use horizontal (landscape) layout, not vertical (portrait). Screens, video monitors, and computer monitors are shaped for a horizontal, not a vertical, format. In addition, a horizontal format is easier to project in rooms with low ceilings.
Effective and Meaningful Organization of Content
Plan the content. Think about the type of students in the class, the goals for the course and the current session, the type of material to be presented in the current session, and the type of media, if any, that you are going to use.
Provide a structure. Each class session or presentation should have a beginning, a middle, and an end.
List objectives or provide an outline at the beginning of each class session. Providing an outline helps students identify the most important points and follow the lecture or discussion more effectively.
Organize course content with a theme or storyline. How do you want to arrange the material? How does each part of the material relate to what comes next.
Remember that a typical student's attention span is 15-20 minutes. Every 15-20 minutes, either change your teaching method or change activities. Use different teaching methods in one session to keep the students attention and to reach students who have different learning preferences. (See Teaching with Lectures.)
Allow for pauses and "wait-time." Wait-time is the pause after the instructor either asks a question or asks for questions. Students need time to think of a response to a question, or to think of a question to ask. Do not be afraid of silence. Most instructors wait 1-3 seconds for a response. However, increasing the wait-time to 5-10 seconds dramatically increases the number and quality of responses