Significance of Mahurat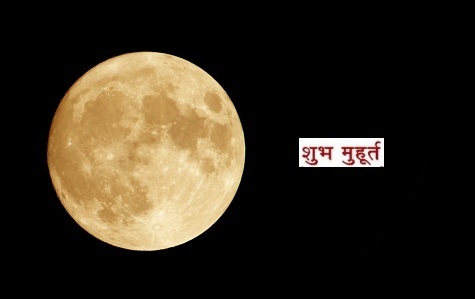 Mahurat is a moment or time most auspicious for a particular occasion or commencement of an activity, and is calculated on the basis of many variables like nature of concerned activity, horoscope of the person who has to perform the activity, planetary position, lunar day, 'Nakshatra' during the period it is to be performed. Mahurat is the best planetary position to start an endeavor. During Mahurat native should commence the activity for which Mahurat is referred to.The
By getting a Mahurat Horoscope made, one ensures that one is not going against natural forces and beginning an auspicious and important task when all cosmic powers are favorable.
Mahurat Horoscope involves thorough study of horoscope of the person who has to perform the activity, position of each planet, lunar day, 'Dasha' periods, 'Nakshatra' during the period it is to be performed, and calculation of the most auspicious and perfect time periods for the ceremony.
Right Mahurat can be for entry into new house (Greh Pravesh) native should actually enter the new house and start living, during Mahurat of construction of property native should get started the construction with acceptable tools and so on. Mind it that Mahurats are available daily and are available in span of few minutes and the work should commence in this particular time span.
Right Mahurat can be chosen for Marriage, Engagement, 'Greh Parvesh' or Inauguration of a new house or Moving into a new residence, Launch of a new business venture/ office premise or any other important occasion.
Purchase/Construction of Property
Greh Parvesh
Purchase of a Vehicle
Employment
Travel
Partnership
Education
Taking Medicine
Speculation
Purchase of a Machine
Starting of Business
Marriage
Filing a Legal Case
Interview
Surgical Operation
Applying for Visa etc..
Ramesh Guptha

Ramesh Guphta is a Fate Reader & Famous Scientific Astrologer . He is practicing Astrology for the past 25 yrs, giving predictions on important aspects of Life, realizing that one needs divine blessings more than academic knowledge to reach their destiny. He has expertise in various Astrology fields like Vedic Astrology Parasara, Advanced Vedic Astrology Systems of Maharishi Paddathi, Brighu Naadi Paddathi, Scientific Astrology (Stellar & Sub Lord Theory) KRISHNA MURTHY PADDATHI (K.P), Financial Astrology, Family Astrology, Education Astrology, Vehicle Astrology, Real Estate Astrology, Children Astrology, Medical Astrology, Marriage Astrology, Marriage Match Making, Love Astrology, Longevity Astrology, Career Astrology, Professional Astrology, Business Astrology, Luck Astrology, Foreign Astrology. Mhuruth Astrology etc.. Being a full-time Astrologer, he currently conducts Astrology training classes and gives various methods of solutions through astro predictions on a regular basis. He also specializes in
1. PRASNA KUNDLI , K.P. HORARY ASTROLOGY ( 1 TO 249 ) SYSTEMS.(Without Birth Details)
2. CUSPAL - INTER LINKS SYSTEMS. (BIRTH – HOROSCOPES & HORARY PREDICTIONS)
3. NUMEROLOGY (NUMBERS & ASTRO BASED, 6 METHODS).
4. NAMEOLOGY, PRONOLOGY, LUCKY GEMS SELECTION (GEM STONES).
5. SCIENTIFIC VAASTHU / ASTRO - BASED VAASTHU / COSMIC VAASTHU.
6. PANCHA PAKSHI SASTHRA (SECRET OF HUMAN LIFE BY SIDDHAS).
7. CRYSTAL PENDULAM METHOD PREDICTIONS. JAMA GRAHA AARUDAM.
He can be contacted for all queries through e-mail or Telephone, subject to realization of payment
For further details contact: Mobile + 91 98482 17464, 80087 97927
E-mail : gupthaastro_19@yahoo.co.in
PROFILE - Sreemannarayena
Sreemannarayena is a Vedic Astrologer, Numerologer, Mantracharya and Prana Pratishta Expert. Founder of Guruprasthan Vedic Ashrama. He is practicing Astrology for the past 12 yrs, giving predictions on major aspects of Life. He has expertise in various Astrology fields like Vedic Astrology, Numerlogy, Mantracharya (Mantras and Yantras) and also Prana Pratishta. He also specializes in Nameology by suggesting the best name to an individual, business or organizations or movie names also Logos which helps them fetching good results.
Specialises in Kala Sarpa Dosha Homas, and Sarpa Shapa Dosha Hoamas, Kuja dosha nivarana pooja, Lakshmi Sudarshana Homas, Chandi Homas, Navagrahs Homas, Rudra Homas with Namakam Chamakam, Laxmi Narasimha Homas, Rudraksha & Saligrama Poojas and many more
He has been giving predictions and giving solutions to overcome from all kinds of economical and emotional problems. One can attain a good quality life, personal and spiritual development with his mystic solutions.
Achieved vedic studies from Veda Patasala TTD. He is President Awardee in astrology and Master in Numerology.
He encourages the corporate world to experience the revolutionary Indian astrology reading to achieve global leadership, enhanced image, dynamic progress, client satisfaction and maximum productivity. The corporate brand name of a company is decided based on Nameology,Numerology and an individual horoscope analysis.He also offers several corporate wellness programs.
For further details contact: Mobile + 91 90004 66777, 94405 66777
E-mail : info@guruprasthan.com, guruprasthan@gmail.com
please visit : http://www.guruprasthan.com