HIERARCHY OF ANGELS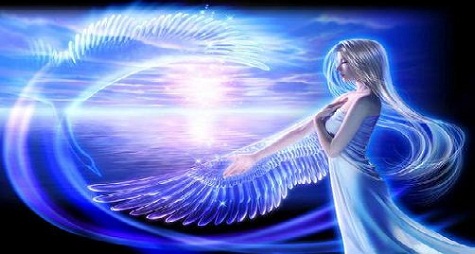 There are millions of angels who are working with the mankind on earth right now to bring about peace and happiness on earth. These angels belong to different spheres or categories. The Angelic Realm has a hierarchy of angels with each having different powers and specialties. The Angelic Realm has three spheres of angels consisting of nine orders, that is three in each sphere. The first one is the Heavenly Counsellors consisting of the Seraphim; the Cherubim; the Thrones, the second one is the Heavenly Governors consisting of the Dominions; the Virtues; the Powers and the third one is the Heavenly Messengers consisting of the Principalities; the Archangels; the Guardian Angels. The angels working with the people on earth belong to the third sphere and are discussed in detail further.
Guardian Angels:
The Angels assigned to us from birth to stay by our side till death are known as Guardian Angels. They stay with us permanently during our stay on earth ensuring our safety. They are well familiar with our mission on earth and assist us in achieving our life purpose by motivating and guiding us throughout. There are at least two Guardian Angels with us always but one can invoke more than that as well.
Archangels:
Archnagels manages and supervises the guardian angels and other angels on earth. Archangel are very powerful and large. They do not have gender but we perceive them as male or female by their special names and energies. Few Archangels are mentioned in the holy texts of Bible, Kuran and ancient jewish texts. There are many Archangels but only 16 of them are currently working with mankind. They have a unique aura colour and speciality. The four major Archangels are discussed in detail.
Archangel Michael:
The name means "he who is like God". He releases us from fear and all forms of negativity. He is associated with providing courage and protection. He is the most powerful Archangel and supervises other Archangels as well. It is believed that Archangel Michael has a sword of light in his hand and uses it to cut the cords of negativity around us. The aura colour associated with him is royal purple.
Archangel Raphael:
The name means "he who heals". He is in charge of all forms of healing. He heals diseases and sicknesses and painful situations in life and brings about comfort by detaching us from painful situations in life. He helps healers to enhance their healing skills. He is also known to assist travellers. The aura colour associated with him is emerald green.
Archangel Uriel:
The name means "God is light". He gives wisdom and new ideas and helps with setting up of new ventures. He is known to help us fulfill our goals and dreams by keeping us motivated and encouraged. He helps during natural calamities as it is believed that he warned Noah of the impending flood and helped him. The aura colour associated with him is pale yellow.
Archangel Gabriel:
The name means "messenger of God". It is believed that Archangel Gabriel delivered the message to Mary about the birth of Jesus. Archangel Gabriel assists messengers like writers, teachers and public speakers. Also helps expectant parents with pregnancy, childbirth and adoption. The aura colour associated with her is Copper.
The other Archangels working with us are Archangel Ariel, Azrael, Chamuel, Haniel, Jeremiel, Jophiel, Metatron, Raguel, Raziel, Sandalphon, Zadkiel and Nathaniel. As each one of them have a speciality, we can connect with a particular Archangel and receive guidance and help in that particular area.
Kanak Kabra
Angel Healer

Kanak Kabra
Kanak Kabra is a certified Angel Healer, Oracle Card Reader, Crystal Therapist and a childbirth educator. She works as a spiritual counsellor and a holistic healer.
She holds certification from Mr.Charles Virtue (son of Dr.Doreen Virtue, who is a pioneer in the field of Angel Therapy). Besides taking one to one sessions for Angel Healing, she is also certified to take workshops for the same, which she conducts regularly. In her workshops, she assists participants to make deeper connections with the angelic realms, which helps them to explore their inner journey with ease and which accelerates the pace of one's spiritual evolution.
Kanak's Angel readings have given her clients much needed insight into the problems they have been facing or questions they have had regarding issues in their lives. By allowing the vibrant and loving energy of the Universe and the Angels to come through to guide, she provides them with the best choices they can have regarding a particular situation in life. Everyone can walk away from these readings with a clear picture of the situation / issue they are facing now.
Kanak's goal is to make one aware of the inner beauty of the soul. Her passion and purpose is to teach others to tap into the power and beauty of their souls and help people connect with the love and wisdom of their angels.
She can be contacted for following services:
Oracle Card Reading
Channeling with the Angels
Crystal Prescription
Space Cleansing
Soul Spa
Chakra and Aura Cleansing
Learning to connect and communicate with the Angels
Learning How to give Oracle Card Readings
for Major benefits Contact @ +91 98850 89031 (11 am to 6 pm IST)
E mail : kabrakanak@gmail.com
Please visit :
http://www.divinitytools.in