Ergonomics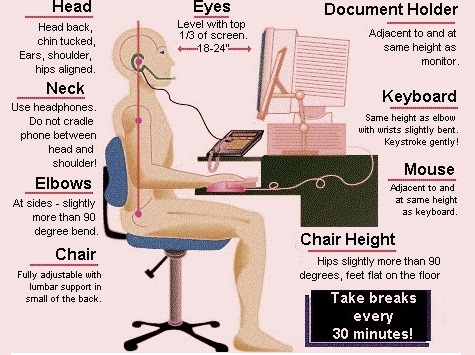 Ergonomics is the study of your work environment and how you adapt. It takes into consideration your comfort level in your workstation. Invariably, individuals twist or strain to reach the keyboard or sit in odd contortions which result in neck, back, or wrist pain. Some simple workstation modifications, posture awareness, and chair consciousness can prevent problems.
Lower the height of the chair so that your back touches the back of the chair and you are comfortable.
Your feet should rest firmly on the floor slightly in front of you.
Center your keyboard in front of your monitor. Your eyes should be at the same level as the tool bar.
Keep the keyboard and mouse close to the edge of the desk.
Keyboard and mouse should be positioned so your arms fall naturally at your sides, with wrists straight out in front while typing/mousing.
Support your wrist and forearms with a gel pad or wrist support.
Avoid repetitive gripping of the mouse.
Keep frequently used items close - avoid reaching for anything!
Do wrist, finger, and hand exercises.
Sitting in a chair places 400 pounds of pressure on your lower back. If your back is unable to support your body, the strain which it is undergoing will affect other areas of your body as well, including your hands, arms, and wrists.
There are a number of steps you can take to reduce strain as you work. First, consider your desk posture. Be sure to sit with your back low against the back of your chair. You may need to roll up a towel or buy a lumbar roll to maintain the natural curve of your spine. Be sure the back of the head is lifted, the breastbone is lifted, and the lower back is supported. Your back should be angled backward a few degrees to widen the angle between the torso and the thighs: this increases blood flow plus reduces the compression of the spine.
Your arms should be relaxed and loose at your sides, with your forearms and hands parallel to the floor. The correct wrist and hand position should create a 90-degree angle and the wrists should not be flexed or extended, but rather should be in a neutral position. Keep your thighs at a right angle to your torso, and your knees at a right angle to your thighs.
Be sure to change your position frequently, and avoid using excessive force while typing at the keyboard. Over time, a heavy typing style could aggravate hand, wrist, or finger pain symptoms by placing joints and tissues under continual stress. Lastly, consider the use of ergonomic devices such as back supports, mouse wristpads, and keyboard gel wristpads
SPARC SPECIALTY PHYSIOTHERAPY AND REHAB CARE
Relief+Rehabilitation+Prevention
Sparc health care , is dedicated to providing their patients with the highest level of physical therapy treatment. Their physical therapists focus on evidenced-based practice, rigorous continued education in specialized areas of treatment, and weekly research-based study to allow their patients to quickly and effectively achieve the best results.
To further ensure preeminent physical therapy services and patient care, each of their patients are directly treated by their licensed, specialty certified physical therapists - without interaction from assistants or aides
At Sparc Healthcare,they not only believe in hands-on, one on one therapy but also alternative innovative approaches which are more focused on the overall health as well as well being of their patients and hence they enjoy the abundant support for pursuing the excellence in the quality of health care. They always aim to continuously push high to a new stage keeping in mind the policy of their clients first, strive to be first, provide effective and precise treatment and thus have attained perfection through dedicated teamwork and never ending spirit. Their dedicated and sincere staff has built an excellent collective atmosphere of comfort, communication, precise and effective treatment by the means of the best available methods to take this prestigious firm to a higher plane and make them reach where it is today - one among the best, bringing smiles to their satisfied patients.
Services:
Manual Therapy
Exercise Therapy
Acupuncture
Women's Health
Ergonomics

Conditions Treated

Back pain
Neck Pain
Joint Pain Arms and Legs
Headaches
Arthritis/Fibromyalgia
Motor Vehicle Accident
Work Injury
Sports Injury
Overuse Injury
Postural Problems
TMJ
Pre and Post Natal
Arthritis/Fibromyalgia

Contact : +91 9000344744 / 9000644844

Please visit : http://www.sparchealthcare.com
----------------------------------------------------------------------------------
SVR PHYSIOTHERAPY CLINIC
SVR Physiotherapy Clinic provides excellence in Physiotherapy located at Madhapur on Hitech city Road,Hyderabad.The clinic provides the patient with accurate diagnosis and prognosis through a methodical and thorough assessment process. Their aim is to provide the highest standards of Physiotherapy treatment and advice, based on current scientific evidence.
The Practice was established by Dr.Ch.Srinivas Reddy MPT;MIAP.The clinic treats all Physical problems like LOW BACK PAIN, NECK PAIN, SPORTS INJURIES, OSTEOARTHRITIS, SHOULDER PAIN, SPRAINS, STRAINS, and all JOINT PAINS, ORTHOPAEDIC, NEUROLOGIC, CARDIAC PROBLEMS, OBESITY, FITNESS COUNSELLING, REHABILITATION and ERGONOMIC TRAINING etc.
With many years of experience they utilise their skills to offer patients clinical excellence in all aspects of their assessment and treatment. The reason this clinic was founded was to improve patient's experience of physiotherapy. They offer an appointment with flexible time to eliminate the frustration commonly experienced with long waiting times. Their mission is to provide most up to date physiotherapy modalities and advanced customized exercises programs for each individual to make them pain free and healthy life.
The clinic also provides consultations with General Physician & Diabetologist (Dr.Aparna Khulbey) and Orthopedic Surgeon (Dr.Madan Mohan MS;MCH)
Facilities :
Very advanced SPINAL DECOMPRESSION MACHINE
ULTRASOUND THERAPY
INTERFERENTIAL THERAPY(IFT)
TRANS CUTANEOUS ELECTRICAL NERVE STIMULATION(TENS)
SHORT WAVE DIATHERMY
WAX BATH
NERVE STIMULATOR
MANUAL THERAPY AND SPINAL MANIPULATION
VARIETIES OF EXERCISE THERAPY EQUIPMENTS
Contact : +91 96761 94681