SIGNS OF ANGELIC PRESENCE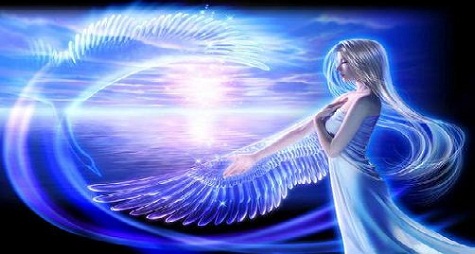 Although very few people so far have reported seeing an angel, thousands of them have sensed or felt their presence at sometime or the other. There are many signs to tell that an angel or a divine being is around, as angels do give us a sign when they are working with us.
The most common of them is a seeing flashes, sparkles or trail of light for a moment. This is because the angels are made up of light and they glow in different colours. The other most common sign reported is a feeling of warmth around head, neck or face. Sometimes this feeling is associated with change in air pressure too which is perceived as a pressure on the crown area or in our ears.
Sometimes angels reach to us in the form of repeated number sequences called Angel Numbers (like 111, 4444, 555 etc.) Each number sequence has a message associated with it and if a particular sequence is seen repeatedly then it means that the message associated with the number is the guidance the angels are giving you right now.
Apart from the signs mentioned above, there are many other signs which the angels give us to make their presence known like seeing feathers around you, slight breeze in the room even when the windows are closed, cloud formation in the shape of angels, sounds of bells or chime or your name being called when no one is around, a pleasing fragrance from unknown source that lasts for a moment. The list is endless. Each one of us are going to feel the angels in our own unique and different ways depending upon our sensitivity and receptivity. If you have a strong feeling that you are in the presence of an angel then you most likely are because the unconditional love radiating from them is unmistakable.
Angels are ready waiting for our call of help and are happy to help always. While they are around us and working for us they make their presence felt. Look for signs in your life. How is that you are connecting to your angels today?
HIERARCHY OF ANGELS
There are millions of angels who are working with the mankind on earth right now to bring about peace and happiness on earth. These angels belong to different spheres or categories. The Angelic Realm has a hierarchy of angels with each having different powers and specialties. The Angelic Realm has three spheres of angels consisting of nine orders, that is three in each sphere. The first one is the Heavenly Counsellors consisting of the Seraphim; the Cherubim; the Thrones, the second one is the Heavenly Governors consisting of the Dominions; the Virtues; the Powers and the third one is the Heavenly Messengers consisting of the Principalities; the Archangels; the Guardian Angels. The angels working with the people on earth belong to the third sphere and are discussed in detail further.
Guardian Angels:
The Angels assigned to us from birth to stay by our side till death are known as Guardian Angels. They stay with us permanently during our stay on earth ensuring our safety. They are well familiar with our mission on earth and assist us in achieving our life purpose by motivating and guiding us throughout. There are at least two Guardian Angels with us always but one can invoke more than that as well.
Archangels:
Archnagels manages and supervises the guardian angels and other angels on earth. Archangel are very powerful and large. They do not have gender but we perceive them as male or female by their special names and energies. Few Archangels are mentioned in the holy texts of Bible, Kuran and ancient jewish texts. There are many Archangels but only 16 of them are currently working with mankind. They have a unique aura colour and speciality. The four major Archangels are discussed in detail.
Archangel Michael:
The name means "he who is like God". He releases us from fear and all forms of negativity. He is associated with providing courage and protection. He is the most powerful Archangel and supervises other Archangels as well. It is believed that Archangel Michael has a sword of light in his hand and uses it to cut the cords of negativity around us. The aura colour associated with him is royal purple.
Archangel Raphael:
The name means "he who heals". He is in charge of all forms of healing. He heals diseases and sicknesses and painful situations in life and brings about comfort by detaching us from painful situations in life. He helps healers to enhance their healing skills. He is also known to assist travellers. The aura colour associated with him is emerald green.
Archangel Uriel:
The name means "God is light". He gives wisdom and new ideas and helps with setting up of new ventures. He is known to help us fulfill our goals and dreams by keeping us motivated and encouraged. He helps during natural calamities as it is believed that he warned Noah of the impending flood and helped him. The aura colour associated with him is pale yellow.
Archangel Gabriel:
The name means "messenger of God". It is believed that Archangel Gabriel delivered the message to Mary about the birth of Jesus. Archangel Gabriel assists messengers like writers, teachers and public speakers. Also helps expectant parents with pregnancy, childbirth and adoption. The aura colour associated with her is Copper.
The other Archangels working with us are Archangel Ariel, Azrael, Chamuel, Haniel, Jeremiel, Jophiel, Metatron, Raguel, Raziel, Sandalphon, Zadkiel and Nathaniel. As each one of them have a speciality, we can connect with a particular Archangel and receive guidance and help in that particular area.
Kanak Kabra
Angel Healer

Kanak Kabra
Kanak Kabra is a certified Angel Healer, Oracle Card Reader, Crystal Therapist and a childbirth educator. She works as a spiritual counsellor and a holistic healer.
She holds certification from Mr.Charles Virtue (son of Dr.Doreen Virtue, who is a pioneer in the field of Angel Therapy). Besides taking one to one sessions for Angel Healing, she is also certified to take workshops for the same, which she conducts regularly. In her workshops, she assists participants to make deeper connections with the angelic realms, which helps them to explore their inner journey with ease and which accelerates the pace of one's spiritual evolution.
Kanak's Angel readings have given her clients much needed insight into the problems they have been facing or questions they have had regarding issues in their lives. By allowing the vibrant and loving energy of the Universe and the Angels to come through to guide, she provides them with the best choices they can have regarding a particular situation in life. Everyone can walk away from these readings with a clear picture of the situation / issue they are facing now.
Kanak's goal is to make one aware of the inner beauty of the soul. Her passion and purpose is to teach others to tap into the power and beauty of their souls and help people connect with the love and wisdom of their angels.
She can be contacted for following services:
Oracle Card Reading
Channeling with the Angels
Crystal Prescription
Space Cleansing
Soul Spa
Chakra and Aura Cleansing
Learning to connect and communicate with the Angels
Learning How to give Oracle Card Readings
for Major benefits Contact @ +91 98850 89031 (11 am to 6 pm IST)
E mail : kabrakanak@gmail.com
Please visit :
http://www.divinitytools.in
Chrysalis-Transforming your life.
Sharmila Rao
Chrysalis is the Spiritual Centre for Reiki training. Along with the commitment of Reiki training, it also incorporates holistic approach in itself by conducting psycho spiritual workshop like Past Life Workshop and various other spiritual meditation workshop catering to all walks of Life. This place is beyond any school of thought and above any bondages as people learn through one medium of Love. People possessing any belief system come under a roof to experience and learn . The discipline here does not restrict but persuades to be AWARE. Healing humans, nature, plants, animals, time, space and relationships or in one word healing negativity is the central point of this place.
According to Sharmila Rao of "Chrysalis" the term means a protected stage of development.She believes that human beings are like larvae which has the potential to become a beautiful butterfly.. She helps in channelising the divine energy with the help of Reiki, which is a gift from God in these troubled times therby lifting us from darkness into the light, resulting in a life filled with abundance of love, joy, wealth, success and prosperity.
Chrysalis is not one organization but it produces organizations. It strongly believes in the 'institution' that exists in each individual. Their work is to groom the individual into an adult to spread the essence of love and explore in his / her unique way. Thus an individual attains optimum to serve thy self maximally in his/ her unique and expert way.
Contact Sharmila Rao at +91 98490 78511 Email: sharmiladjm@gmail.com

Ms. Shubhra Jain - Tarot Reader and Certified Past Life Regression Therapist
Shubhra Jain a skilled software engineer and a passionate practitioner of arcane healing arts such as Tarot, Past Life Regression, and more. In order to resolve her own blocked Throat Chakra, she learnt Chakra Healing, Crystal Healing in addition to Reiki. Now she helps her clients to unblock their chakras this technique. Shubhra is also a Certified Past Life Regression Therapist and helps her clients to uncover hidden issues using Womb regression, Age Regression, Breath-Work and Inner Child Work.

Mrs. Vira Komarraju
ReikiUrja - Holistic & Clairvoyant Healing Space
I have been practicing Reiki for 18 years, and it has been an enriching and rewarding experience. I have been healing human beings, situations, relationships, the past, the future, animals and plants, insects, Mother Earth too. I have taught several people including children, through the years. This has brought me a long way on a wonderful journey, and I feel so joyous and grateful for all that is in my life.
Reiki magic: Yes, Reiki heals and empowers. It dissolves or releases our emotional blocks working at the energy level, and it works ahead to empower our goals and aspirations for the future too. I feel Reiki is an amazing and powerful practice by which we can heal others and heal ourselves in the process too - with incredible certainty. It is a very subtle and gentle healing method that just helps the baggage drop away and helps the 'real' you to emerge. Again, it's not only to HEAL oneself, Reiki is used to EMPOWER as well.
How did Reiki come to me: I was nurtured on a spiritual background of yoga and meditation from as far back as six or seven years of age. In the preteen years and my youth I learned from the teachings of the Upanishads, listening to the erudite Swami Ranganathananda on a Sunday weekly one hour at the Sri Ramakrishna Math. This foundation bred a desire in me to spend time and effort on personal spiritual growth, learn techniques of breathing with Late S N Goenka's Vipassana (Lord Buddha), Sahaj Yoga meditation, the Sudarshan Kriya in the Art of Living, and techniques of energy transmission with Reiki. I sought information on near-death experiences, the afterlife, past life and what happens in the interim, between lives.
I understood the Truth that emotions and relationships were the fire in which we as humans honed our goodness; that love and compassion are the only reality, as free as the air we breathe. We can easily draw upon the love and compassion available in abundance all around us, share and give as easily, freely also. We need to be aware that we are already connected to the source of love and just need to draw up on it as much as we please, all the time. That is the essence of life.
HEALING modalities
Usui & Karuna Reiki healing, Past Life Regression Therapy (PLRT), Hypnotherapy, Crystal healing, Fairy & Angel Card readings, and Archangel Michael & Raphael healing for:
Physical lllnesses I Emotional setbacks (Depression, Bipolar, Paranoia) I Relationships I Fears & Phobias I Addictions I Personal goals affirmations I Chakra healing I Chakra balancing I Aura healing I Space healing
TRAINING: Usui Reiki Lineage of living Reiki Master William Lee Rand - Levels 1 & 2, Advanced Reiki Training (ART)(Level 3A), Reiki Master (Level 3B) I Karuna Reiki Training Practitioner Level 1&2, Karuna Reiki Master Level
G-4, Peace Court Apartments
Street No - 1, Umanagar, Begumpet
(behind Country Club), Hyderabad - 500016 A.P. India.
Contact : +91 98490 29270, +91 40 234 00 112
Email: reikiurja@gmail.com
www.reikiurja.blogspot.in/
Profile - Rajashree Venkatesan
Invite Harmony, Happiness, Health and Abundance into your world

According to the law of physics, everything in the universe is made up of energy particles that vibrate at their own unique frequency. This includes our physical body, our thoughts and our emotions. When we are happy our energy frequencies are in line with that of the Universe. But when we are struggling and having difficulty in any area of our life like health, finance or relationship, our energy frequencies need to be realigned and rebalanced to create harmony and peace.
Rajashree Venkatesan is a holistic healer with hands on experience of many years. She is also a facilitator for holistic courses. She is trained under famous faculties for various courses. She is a certified Theta Healer, Reiki Healer, a qualified Metaphor and Access Bars therapist. Her experiences with these processes give amazing results for her clients.
Rajashree's attitude, zeal and compassion towards her work make her an amazing healer. With a complete non-judgemental attitude, she has the ability to see the deepest level of her client's issue, thereby producing outstanding results. Her knowledge with the above mentioned therapies coupled with the experience she possesses help her understand her clients and their problems with ease & grace. Her aim in life is just to help people heal and look into their lives with a complete new perspective which is for their highest good. This enables her clients to take the best decisions for life inviting more peace, love, joy, harmony & abundance into their lives.
She says we all can change our destiny provided we are ready to welcome the positive curve in our lives. She has touched lives of many people with her healing sessions & workshops to bring in this love of the Universe into their lives. She conducts her healing sessions as well as workshops with an intention to empower individuals rather than they being dependent on anyone.
An ace healer with spell bound virtues of support & unconditional Love towards her profession, she is a well known name in the domestic market & is now making her presence felt nationally.
Theta Healing :
ThetaHealing fits into the mind/body therapies as a complementary or alternative health modality. It is both therapeutic and self-help and aims to assist with physical, spiritual and emotional wellbeing. ThetaHealing® is not a replacement for conventional medical treatment, but rather is supplementary to it.
Using a meditational process that accesses the "theta" brainwave, we pray for our clients to receive unconditional love to assist in the healing changes they desire. Another way of expressing this is that we ask God, The Energy That Moves in All Things, Source or The Creator for the healing to take place.
Despite ThetaHealing® being an intangible spiritual healing process it could best be described as "focused thought and prayer bringing healing and transformation through unconditional love". The processes of ThetaHealing® are not specific to any age, sex, race, color or creed or religion. Anyone with a pure belief in God or the Creative Force can access and use the branches of the ThetaHealing® tree." Source Vianna Stibal
Metaphor Therapist:
This therapy helps children to spot their core feelings & convert into vibrant positive energies, thus making the blooming buds become great achievers.
Access Bars:
Each Access Bars® session can release 5-10 thousand years of limitations in the area of your life that corresponds with the specific Bar being touched. This is an incredibly nurturing and relaxing process, undoing limitation in all aspects of your life that you are willing to change
To know more about the above processes and to give yourself a chance to heal call Rajashree today.
Contact :Rajashree Venkatesan
Rajashree can be reached at : +91 95731 07381
Email: rajashreevenkatesan@gmail.com

Ms. Anjali Nagpal
Anjali Nagpal is a business trainer, a life coach and workshop facilitator certified to present Heal Your Life transformational workshop worldwide (based on the philosophy of Louise L Hay) approved by Hay House, US. She also conducts others workshops relating to self healing.