ACUPUNCTURE FACTS
Acu-Clinic -- B.C. Mishra B.sc, D.Ac., M.D(A.M),M.A.F.R.C.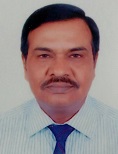 Mr. Mishra is an active & renowned Acupressurist with 16 yrs experience in various types of acute & chronic diseases. He is especially known for his success in dealing with complex and challenging cases.
He is assisted by his wife Nanda Mishra to undertake the treatment of lady patients.

Holistic health Care - Prakruti Swasthya Kendra

A Unit of Holistic Medicine Research Foundation - Asia's first and foremost ISO 9001:2008 certified pioneer research centre on Holistic Medicines - Prof. Dr. Deepak Rout (Gold Medalist)...

Rahul

Rahul is a very competent researcher with ability to contribute as a spiritual healer & life transformation coach, with a passion of helping people in getting rid of problems & grow in all aspects of life.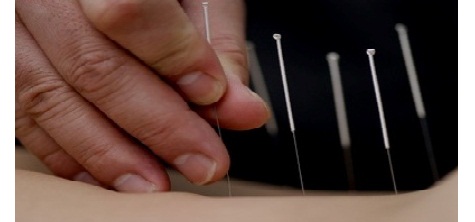 What is Acupuncture?
Acupuncture can be defined as the insertion of dry needles into the skin at specific locations called acupuncture points. Acupuncture is performed by certified practitioners and physicians to treat certain medical disorders. Depending on the training and experience of the practitioner and the problem being treated, acupuncture techniques may include electrical current through the needles (electro acupuncture) or heat (moxibustion) and pressure (acupressure).
Acupuncture began in China more than 2000 years ago. It is now practiced throughout the world, particularly in China, Korea and Japan. In the United States, acupuncture started gaining popularity in the early 1970s.
How Does Acupuncture Work?
The basic idea behind acupuncture, according to ancient theory, is that energy flows within the human body and can be stimulated to create balance and health. The energy flow (or vital force)—called qi and pronounced "chee"—moves throughout the body along 12 main channels known as meridians. These meridians represent the major organs and functions of the body although they do not follow the exact pathways of nerves or blood flow.
The goal of acupuncture is to correct imbalances of flow and restore health through stimulation, generally by inserting needles through the skin at points along the meridians of the body. Current acupuncture information lists up to 400 different acupuncture points for various health problems. Scientists have attempted to explain the actual physical effects of acupuncture on the human body. Some researchers suggest that pain relief happens when acupuncture needles stimulate nerves. Another well accepted theory is that acupuncture releases pain-relieving chemicals, such as endorphins and serotonin.
Acupuncture may also be effective because it targets painful tender points, sometimes called trigger points. Additionally, acupuncture may decrease pain-causing inflammation by stimulating the body's pituitary gland to release cortisol, a hormone that is known to reduce inflammation. Although the exact manner in which acupuncture works is unknown, the treatment appears helpful for certain medical illnesses in certain people at certain times.
Conditions
Acupuncture can be helpful in maintaining good health and in treating patients with a wide range of health problems. Acupuncture may be used alone or in combination with other complementary or conventional medicine treatments.
Acupuncture can be used to treat a number of condition and health problems, including:
Side Effects of Cancer Treatment — Acupuncture can help ease the nausea associated with chemotherapy, increase the immune response, relieve pain and improve energy levels.
Headache— Acupuncture can help reduce the severity and frequency of chronic headaches, including tension headaches and migraines.
Chronic Neck and Back Pain — Acupuncture may be helpful in relieving chronic pain caused by spinal stenisis, disc herniation etc.
Women's Reproductive Health Issues — Acupuncture can be used to enhance fertility, relieve symptoms of premenstrual syndrome (PMS) and minimize bothersome symptoms of menopause, including mood changes, hot flashes and insomnia
Chronic Fatigue Syndrome — Chronic fatigue syndrome (CFS) is a disorder that causes debilitating fatigue, including exhaustion and reduced stamina, neurological problems, and a variety of flu-like symptoms.
Chinese medicine considers symptoms of fatigue and exhaustion as originating from weakened organs. Acupuncture may help to revive and stimulate the affected organs from their depleted states.
Fibromyalgia — Fibromyalgia is a chronic pain disorder characterized by fatigue and widespread pain in the fibrous tissues of the muscles, ligaments and tendons. Acupuncture may help relieve the pain associated with this condition.
Asthma — Research in the past decade has shown that acupuncture can be very effective in alleviating the symptoms of respiratory diseases, including asthma. It may also reduce the frequency and intensity of asthma attacks.
Sports Injuries — Acupuncture can be used to treat various sports and repetitive stress injuries.
Gastrointestinal Disorders — Acupuncture may be helpful in relieving some of the discomfort caused by gastrointestinal disorders, including chronic liver disease, irritable bowel syndrome, and inflammatory bowel movement.
Ayuushman Health Care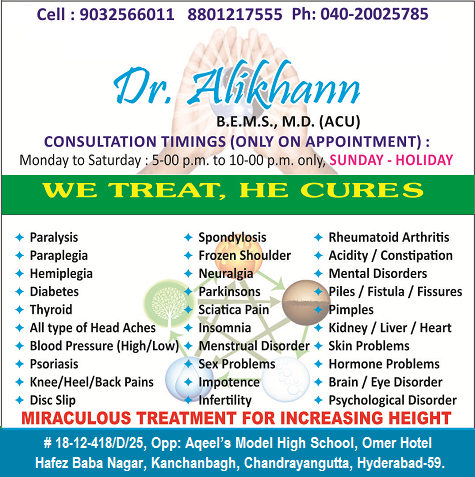 Ayuushman Health Care - Dr. Ali Sher Khan (Acupuncture & sujok therapist). B.E.M.S., M.D (Acu)
Dr. Ali Sher Khan is a clinical and classical (singal needle acupuncture therapy ) Acupuncturist / sujok therapist and Cupping therapist and has been in private practice for over 6 years. He is the recognized for his results-based acupuncture practice where he incorporates many different healing modalities in which he is accomplished. He is best known for his enthusiastic joy, keen intuition, deep caring and commitment to the health and wellbeing of those he works with.
As an experienced alternative health care practitioner Dr. Ali Sher Khan provides One needle Acupuncture, Clinical Acupuncture, Cupping therapy, Sujok, Seed Therapy, Colour Therapy, Fengshui, Pyramid Vastu, & Pranic Healing, Spiritual Treatment Thousands of clients are grateful for his results-based work that has helped them overcome illness, life-blocks, emotional imbalance and stress to achieve healthier, happier more successful living.
As a healer and practitioner of Alternative Medicine, He is committed to one-on-one, personal health care. He enjoys the process of finding the appropriate approach for each patient. He actively works with each of her patients on several levels simultaneously. Every treatment considers your physical, emotional, psychological, and spiritual health.
Dr. Ali Sher Khan is an experienced healer specializing in paralysis, paraplegia, Hemiplegia, Diabetic, Thyroid, High blood pressure, Low blood pressure, Heart, Kidney, liver, gallbladder problems, All kinds of pains like knee, shoulder, back ache, head ache, migraine, etc...) and many more treatment in his clinic.
Miraculous treatment for increasing height through acupuncture without any drug and food supplements.
Ayuushman Health Care
# 18-12-418/D/25, Opp: Aqeel's Model High School, Omer Hotel
Hafez Baba Nagar, Kanchanbagh, Chandrayangutta
Hderabad - 59
Mobile: +91 9032 566 011, 8801 217 555, 9676 538 862
Email: drask4u@gmail.com
Radiance Multi Therapy Clinic
Highest quality, cost-effective clinic of multi therapies
Ms Indumati of Radiance Multi therapy believes in adopting a holistic approach to health and wellness. She treats each patient as an individual, whose well being is affected by lifestyle, including diet, emotions, attitude and environment as each person's health needs differs from those of another.
Ms Indumati is an Acupuncturist and massage therapist with many years of experience in multi therapies. Before entering this industry, she received full practical training in cosmetic acupuncture from Beijing, China. Cosmetic Acupuncture is a specialized type of acupuncture designed to help tighten facial muscles and stimulate good circulation in facial skin. This nonsurgical treatment is purported to reduce the signs of aging by inserting very thin disposable needles into the acupuncture points on the face, which increases local circulation to the face and stimulates COLLAGEN production. This may fill out the lines and gives firmness to the skin.
Cosmetic acupuncture is said to take between five and 10 years off the face, helping eliminate fine lines and make the deeper lines look softer. It also supposedly helps to minimize dark circles, puffy eyes, double chin, sagging skin, and dropping eyelids, relax muscle tone, tighten the pores, and brighten the eyes. It also moisturizes the skin from inside.
Acupuncture has been used for thousands of years to treat many conditions and illnesses. The effectiveness of acupuncture has been related to the manipulation of the energy points on the body to balance and to remove blockages in the meridians (channels of blood and energy) to stay healthy and prevent diseases.
Dr Indumati encourages the formation of a personalized, respectful and trusting healing partnership. She believes that the best healing is achieved in a reciprocal relationship. She believes in empowering each patient with knowledge and confidence.
They consider each person as an energy system in which body and mind are unified, each influencing and balancing the other. Unlike allopathic medicine which attempts to isolate and separate a disease from a person, their approach emphasizes a holistic approach that treats the whole body. They believe that acupuncture, along with other forms of therapy and nutrition are the key tools to wellness. Many people have found their traditional Chinese methods of healing to be excellent tools for maintaining optimum health and preventing illness. Traditional Chinese Medicine is effective for physical, psychological and emotional conditions..
Therapies Offered
Acupuncture
Cosmetic acupuncture
Ayurveda
Herbal treatments
Thai Therapy training
Thai Yoga massage
Reflexology
Ayurveda beauty treatments

As per WHO List of ailments treated with Acupuncture:

gynecological and neurological problems.
low back pain
neck pain
sciatica
tennis elbow
knee pain
periarthritis of the shoulder
sprains
facial pain (including craniomandibular disorders)
headache
dental pain
tempromandibular (TMJ) dysfunction
rheumatoid arthritis
induction of labor
correction of malposition of fetus (breech presentation)
morning sickness
nausea and vomiting
postoperative pain
stroke
essential hypertension
primary hypotension
renal colic
leucopenia
adverse reactions to radiation or chemotherapy
allergic rhinitis, including hay fever
biliary colic
depression (including depressive neurosis and depression following stroke)
acute bacillary dysentery
primary dysmenorrhea
acute epigastralgia
peptic ulcer
acute and chronic gastritis

Contact : +91 98495 62627

Email: indumati@radiancenow.com

Please visit : http://www.radiancenow.com