Acu-Clinic -- B.C. Mishra B.sc, D.Ac., M.D(A.M), M.D.Acu, M.A.F.R.C.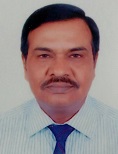 Mr. Mishra is an active & renowned Acupressurist with 19 yrs experience in various types of acute & chronic diseases. He is especially known for his success in dealing with complex and challenging cases.
He is assisted by his wife Nanda Mishra to undertake the treatment of lady patients.
PROFILE:
Graduated in Bioscience from Utkal University, Odisha.
Diploma in Acupressure from the Institute of Alternative Medicines, Mumbai.
Doctor of Medicine in alternative medicines from Acupuncture Foundation & Research Centre, Coimbatore, affiliated to The Open International University for Complementary Medicines, ALMA ATA.
Life Member of Acupuncture Foundation & Research Centre, Coimbatore.
EXPERTISE:
Selected Points from Meridian Therapy (Chinese Acupressure)
Zone Therapy (Reflexology of America)
Sujok (Korean) & Trigger Point Therapy (American)
Psychological (for depression & mental disorder)
Physiotherapy exercises (for Paralysis, Low Back Pain, Neck Pain, Knee Pain, Frozen Shoulder etc.)
DISEASES COMMONLY TREATED:
Arthritis (Osteo and Rheumatoid), Asthma, Acidity, Bed wetting of children's, Constipation, Diabetes, Gas problem(Flatulence), Gall Bladder disorder, Epilepsy, Kidney disorder, Liver disorder, Tonsillitis, Menstrual Problems/Menopause, Migraine, Muscular Dystrophy, Obesity, Parkinson, Palpitation, Piles, Paralysis, Spondylitis (cervical and lumbar), Sinusitis, Sexual Debility, Thyroid Disorders, Ulcer etc.
SOME POINTS TO BE NOTED:
Acupressure & Acupuncture are based on the same Principle, only the mode of treatment on Meridian, Reflex, Sujok and Trigger points differ.
Application of pressure by hand or semi pointed object on points - ACUPRESSURE
Insertion of needles on points - ACUPUNCTURE
Sticking Magnets on points - MAGNET THERAPY
Heating the points by Moxa roll - MOXIBUSTION
UNIQUE FEATURES
Mr. Mishra adopts a unique mode of treatment Electro Magnetic Acupuncture (Acupuncture without needles) the patient feels the pricking pain like needle prick without insertion of needles & can be done on clothes.
Diploma courses offered for interested candidates..
Mr B.C. Mishra can be reached at :+91 93913 98417, 90005 99417
A-1 Balaji Nivas, Street no-2 Lane no-3, Road Adjacent to St Ann's School
Tarnaka, Secunderabad. Telangana, India.
Email: bilash.mishra@gmail.com