Suicidal Tendency
Ms. Krisha Meetu Kapoor

A Clairvoyant by birth & a blessed channel of light she is an accomplished Angel Certified Practitioner trained under Charles Virtue, Clinical Hypnotherapist from California Hypnosis Institute of India, Theta Healer, Intuitive Numerologist, Crystal Healer...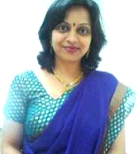 Ms. Shyamala Shukla
She is a Certified Integrated Clinical Hypnotherapist, Past Life Regression Therapist and Clinical Psychologist. She has been facilitating healings for all kinds of mental, emotional and physical problems, holistic health, anger and stress management, and personal and spiritual development. She is a Reiki Practitioner and practices Tarot and Angel Card Reading. She is an internationally Licensed teacher for Heal your Life® workshops, that have transformed lives of many individuals.

Cosmicx Healing Art - Ms. KripaJyoti Nisha Singla

KripaJyoti Nisha Singla (PGDBM) is a Spiritual master, Energy worker, Reiki Master, Theta Instructor, and a dedicated Artist who has been working in the field of healings, spirituality, counselling, relationship healing, family therapy and alternative medicine therapies from more than 12 years.

Kirti Kanodia
Kirti Kanodia is a certified Theta Healer, Trained Family Constellation Facilitator, Tarot card Reader, Past life Regression Therapist, Angel card reader, Inner child integration, Astrologer, Tasso Therapist and Reiki Master.

Dr. Geettanjali V. Saxenaa.

Past life Regression Trainer, Family Constellation Trainer, Theta Healing Trainer, Inner Child Work, Angel Therapist, Reiki healer, Hypnotherapy, Crystal Healing, Graphology, Tarot card reader & Astrologer


Ms. Radhika Chopra
Radhika Chopra - Tarot reading, Graphology, Pythagoras system of numerology, Releasing of toxic emotions and events from energy field, Metaphor therapy, Access bars, Access body processes and Energy transformation of bodies, health, and spaces, Facilitator conducting Bars, Body process, Energetic facelift classes and Right Voice for You Taster.

Ms. Amanpreet Nagpal

Amanpreet Nagpal is an efficient, conscientious and caring counselor with extensive knowledge of facilitating empowerment, rehabilitation and guidance to clients who have experienced trauma and hardship.

Soul Route

Co - founded by four spiritual entrepreneurs, Soul Route is one of its kind life empowerment & transformation center offering full range of psychotherapy & alternative life enhancing services aimed at cultivating healthy & successful lifestyles.