THETA HEALING® BASIC DNA Practitioner Course With KripaJyoti
22,23 & 24th Apr 2016 in Delhi - NCR
THETA HEALING® is a great way to remove the beliefs that block you from achieving your goals weather they are personal or professional. By removing the negative programs it will allow you to move forward and achieve what your mind is set on.
Scientists say, the Theta brain frequency alleviates stress, reduces anxiety, facilitates deep relaxation and improves mental clarity and creative thinking. It also reduces pain, promotes euphoria and provides access to INSTANT HEALING.
THETA HEALING® is a technique that teaches how to put to use our natural intuition, relying upon unconditional love of the Creator Of All that Is. With THETA HEALING® you will learn that everyone has intuitive abilities that can be used to bring about spontaneous physical and emotional healing to help yourself as well as your friends and family.
THETA HEALING® is an energy healing technique that will enable you to enhance your life physically, emotionally and spiritually. It is a powerful tool for mental health and helps with the following:
1. Self Esteem
2. Relationships
3. Self-expression
4. Developing intuition
5. Discernment & Clarity
6. Connecting to the divine source
7. Safety
8. Ability to express truth easily & effortlessly
9. Communication
10. Decision making
11. Confidence
12. Motivation
13. Self-empowerment
14. Release fears and phobias
15. Connect with Higher Self
Basic DNA
The heart of the Basic DNA seminar is the practice of techniques that allow you to change life patterns held in place by core, genetic, historic and soul beliefs, either self inflicted or externally imposed. Theta Healing® we believe you inherit beliefs and emotions from your ancestors. This level we call the genetic level
The student will learn to identify his/her own beliefs as well as to practice pulling them for others in the seminar. This practice can quickly reveal systems of belief, showing the body how to replace limiting beliefs or feelings with positive ones.
Seminar Includes: Theta Healing® Book and Theta Healing® Manual
Prerequisites For Basic DNA: None
Get 10% concession if registered with full payment by 31st March 2016. Confirmations only through payment.
Note:
1. Certificate, Licences, Books, Manuals, Tea / Coffee and Vegetarian Lunch provided.
2. Please carry writing material like notebook, Pen
3. Repeat Students Pay 50% of fees
Venue: Cosmicx Healing Art, D-250 Ground floor, Ramprastha Colony, Opposite Vivek Vihar East Delhi, New Delhi, India.
Facilitator: KripaJyoti - Mobile: +9198189 95594
For more info: log on to
www.cosmicxhealingart.com
Only limited seats available - Hurry and grab yours!!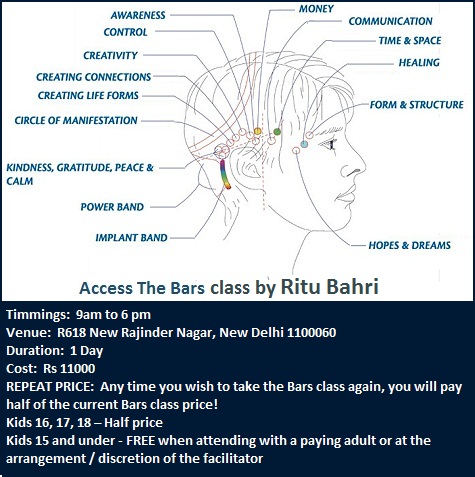 Do you remember the last moment in your life when you were totally relaxed and nurtured and cared for? Or has it been a little too long since you received healing and kindness without any judgment of your body or your being?
An Invitation from Access Consciousness® founder, Gary Douglas and co-founder Dr. Dain Heer
The first class in Access is The Bars®. Did you know there are 32 points on your head which, when gently touched, effortlessly and easily release anything that doesn't allow you to receive? These points contain all the thoughts, ideas, beliefs, emotions, and considerations that you have stored in any lifetime. This is an opportunity for you to let go of everything!
Each Access Bars® session can release 5-10 thousand years of limitations in the area of your life that corresponds with the specific Bar being touched. This is an incredibly nurturing and relaxing process, undoing limitation in all aspects of your life that you are willing to change. How much of your life do you spend doing rather than receiving? Have you noticed that your life is not yet what you would like it to be? You could have everything you desire (and even greater!) if you are willing to receive lots more and maybe do a little less! Receiving or learning The Bars® will allow this to begin to show up for you.
Access Bars® has assisted thousands of people to change many aspects of their body and their life including sleep, health and weight, money, sex and relationships, anxiety, stress and so much more. At worst you will feel like you have just had a phenomenal massage. At best your whole life can change into something greater with total ease.
Taking the Access Bars® class is a prerequisite for all Access Consciousness® Core Classes as it allows your body to process and receive the changes you are choosing with ease.
Facilitator-Ritu Bahri
+91 99014 52012
Please visit :
http://www.ritubahri.com/blog/access-consciousness-bars-healing