Lama Fera Reiki
Ms. Shilpa S Deshmukh - Sakara Healing.

She is Member Tera-Mai Reiki & Seichem association US & Founder of Tera-Mai Reiki & Seichem association of India.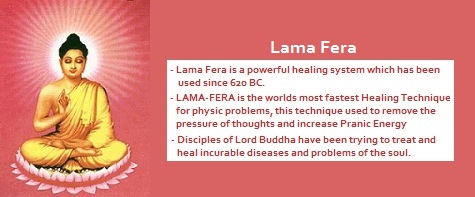 LAMA-FERA is the worlds most fastest Healing Technique for physic problems, this technique used to remove the pressure of thoughts and increase Pranic Energy, which helps in re-construction of damage cells and starts Auto Healing System of the body. Lama Fera is a powerful healing system which has been used since 620 BC. Disciples of Lord Buddha have been trying to treat and heal incurable diseases and problems of the soul. Lama Fera was discovered by the efforts of Buddhist Monks and has thereafter been propagated by masters. He redeemed the people from their sorrows and diseases. It is used there for physical, mental, emotional, and spiritual healing. Lama-Fera is the union of two words. Both the words have their own identity and importance. Lama means follower, who follows the philosophy of Buddha, making it part of his life from core of his heart; and Fera means the two and half times of circumvention. It has 12 symbols to practice. Though its method of treatment or healing is quite different from what we practice in Reiki and other healing therapies but, its symbols have abundance power to treat highest level of negative energies.
Benefits of Lama-Fera
Freedom from Stress, Tension and Depression.
Freedom from Tantra-Mantra effectts Ghosts and Evil eye Problems.
Freedom from Un-known Fears.
Freedom from Fears and Nervousness in Chronic Diseases.
Best for Increasing Memory and Concentration.
Best to increase your Will Power.
Best for Mercy Death for last stages Patients or Old Aged Person.
Helps clear negative energy or problems in business, property, health, etc.
Lama-Fera is capable to remove Evil-eye Effects and Vaastu Rectification (Removal of Negative Energy from Houses, Offices, Factories.)
It can remove Past- Life Issues And Many More
Lama Fera is taught in Two Levels:
Master Healer Level
Introduction and History of Lama Fera
Study of Chakras
Explanation and Use of Healing Kit
Healing Method for self and others
6 powerful symbols & their use
Soul Meditation
Level I attunement
Healing of the Earth
Master Teacher Level
6 more powerful symbols and their use
Lama Fera Attunement process for Level I, II and III
Attunement of Level II and Level III