Workshops & Events in Asansol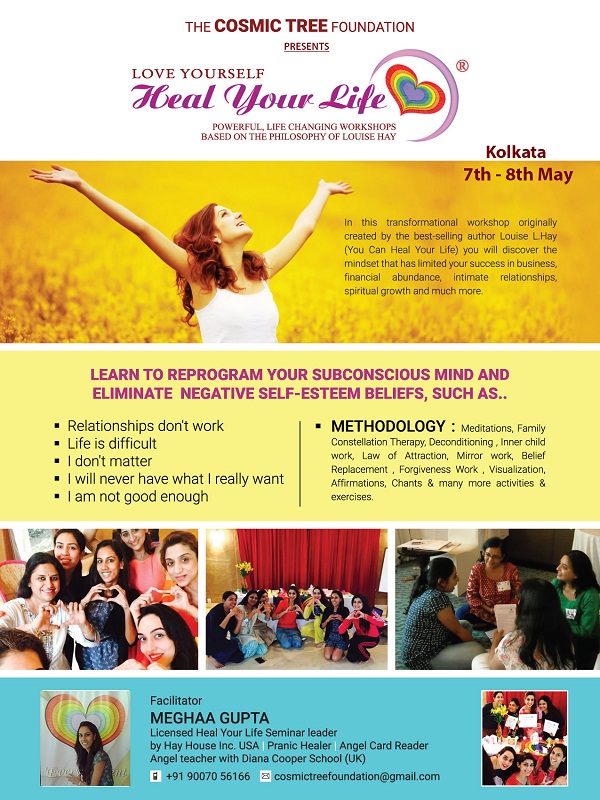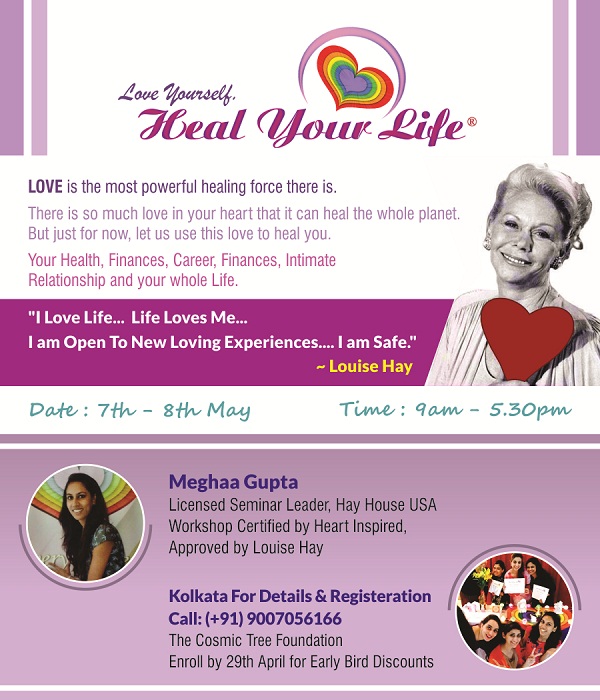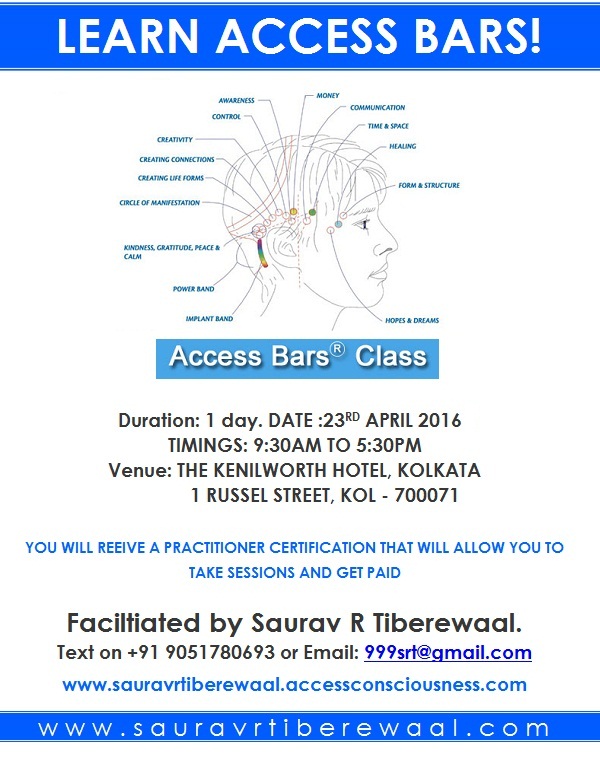 If you are reading this, you are undoubtedly a seeker of some kind! That's good news, as it's the seekers who are able to change the most and step into the gift they truly are. Whether you are looking for change in one area or many, you have come to the right place.
About ACCESS CONSCIOUSNESS
For more than 20 years ACCESS has been taught, demonstrated and has benefited people all over the world. The results have been dramatic. The outcomes for both the client and the practitioner are great. People who take the ACCESS workshops and classes and who do ACCESS regularly, experience an increased sensitivity in their hands, an increase in their intuition and perception and in their ability to see and feel energy flows and blockages. With every session they feel better, clearer, more open and more sensitive to the world around them. Life improves and the areas that are not working become easier and finally cease to be a problem.
ACCESS BARS
The first class in Access is Access Bars. Did you know there are 32 points on your head which, when gently touched, effortlessly and easily release anything that doesn't allow you to receive? These points contain all the thoughts, ideas, beliefs, emotions, and considerations you have stored in any lifetime. This is an opportunity for you to let go of everything!
Each Bars session can release 5-10 thousand years of limitations in the area of your life that corresponds with the specific Bar being touched. This is an incredibly nurturing and relaxing process, undoing limitation in all aspects of your life that you are willing to change!
How much of your life do you spend doing rather than receiving? Have you noticed that your life is not yet what you would like it to be? You could have everything you desire (and then some!) if you are willing to receive lots more and maybe do a little less!
Access Bars have assisted thousands of people change many aspects of their body and their life including sleep, health and weight, money, sex and relationships, anxiety, stress and so much more!
At worst you will feel like you have just had the best massage of your life. At best your whole life can change into something greater with total ease.
JUST A FEW THINGS THAT BARS CHANGES FOR YOU!
Stress reduction/clearing mind chatter
Gifting your body more ease and joy
Receive a LOT more and do a little less
Sleep better and wake up feeling refreshed and full of energy
For ADD and ADHD
For children before tests
For pregnant women
For deep relaxation
Dissipate some of the mental, emotional, physical, and energetic blockages that are keeping you stuck
Is your life not quite what you would like it to be? Do you desire more?
Taking Access Bars class is a pre-requisite for all Access Consciousness core classes as it allows your body to process and receive the changes you are choosing with ease.
Please visit :
http://www.saoge99.com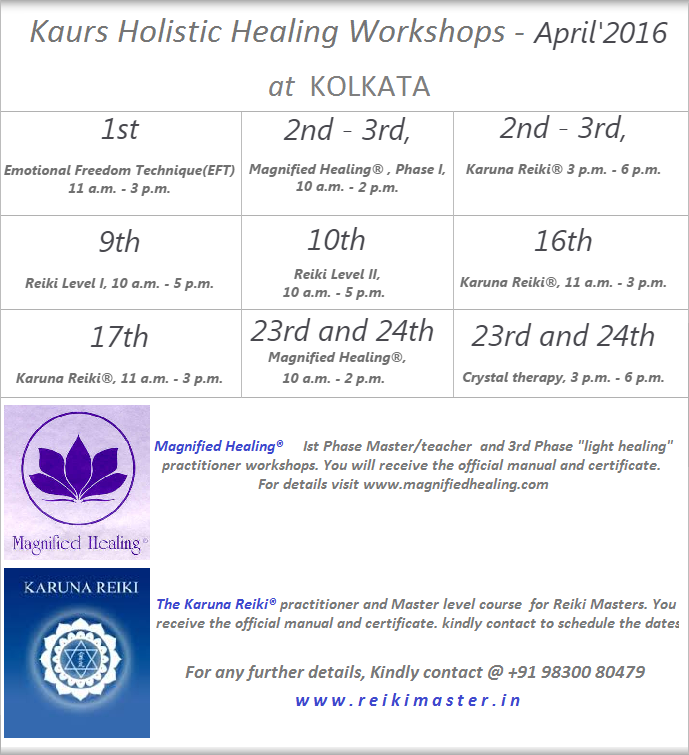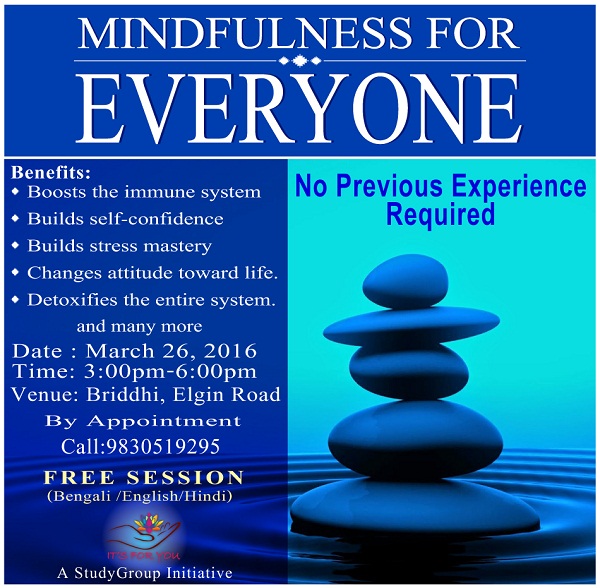 Personality Development, Assertiveness Skills Building, Mastery of regular Stress, Self Grooming, are inside jobs. To carry these traits inside out, what is needed is the realization and belief of our own power, inner wisdom and strength. To realize and believe in our strength, power & inner wisdom we need to be "present" in the "present moment" , hence the need of .. MINDFULNESS...
MINDFULNESS, though it has its roots in Buddhist Meditation, a secular practice of mindfulness has entered the mainstream in part, through the work of Jon Kabat-Zinn and his Mindfulness-Based Stress Reduction (MBSR) program, which he launched at the University of Massachusetts Medical School in 1979.
Students,Young Executives, Stressed Executives, Homemakers, Everybody in highly demanding roles, start- up entrepreneurs, hospitals & hospitality Industry staff. AND ALL THE HUMAN BEINGS who can't find time for themselves,. will be highly benefited.
PLEASE JOIN US ..............LET'S CONNECT & GROW... SHARING OUR STRENGTH, LOVE, WARMTH, CARE & KNOWLEDGE.
We will have group & individual sessions
Date : March 26, 2016
Time: 3 pm to 6 pm ( BY APPOINTMENT)
Call for an appointment : +91 98305 19295
Venue: Briddhi Banquet, Elgin Road.
Facilitator & Life Coach: Sujata Mukherjee
www.wellnessexclusive.com/asansol/sujatamukherjee.php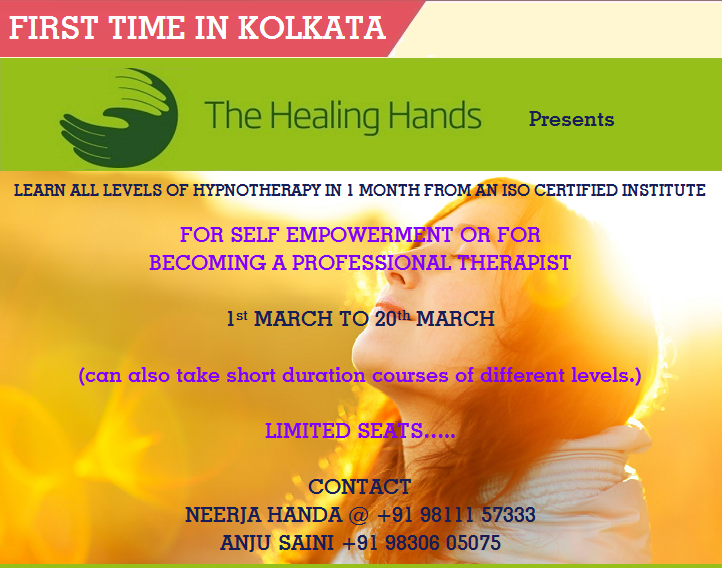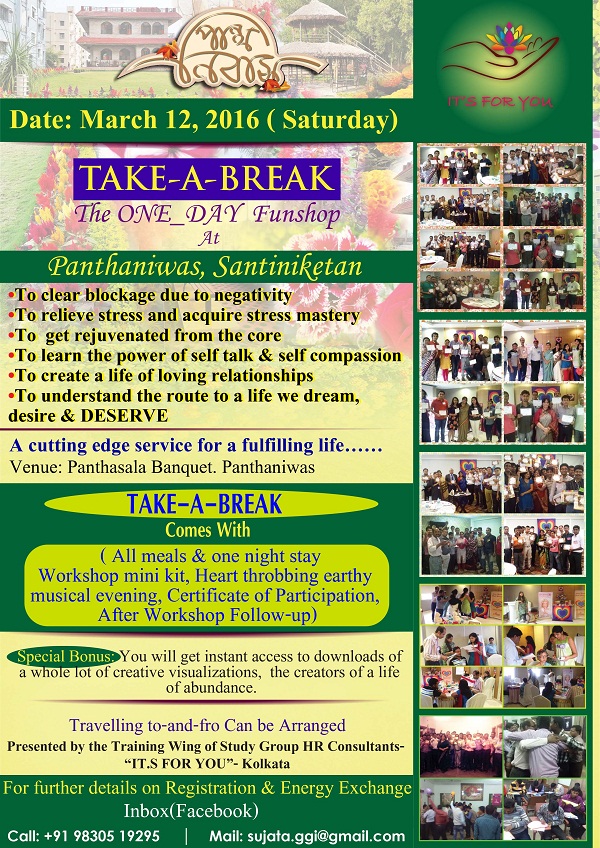 www.wellnessexclusive.com/asansol/sujatamukherjee.php
In the retreats we slip into the restorative space within...explore, get empowered and emerge getting connected to the true self..and to what really matters, getting ready to handle any of life's challenges, just loving our existence, loving the creations and getting filled with divine gratitude.
TAKE-A-BREAK
to
"Release, Renew, Rejoice" - @ Panthaniwas, Santiniketan